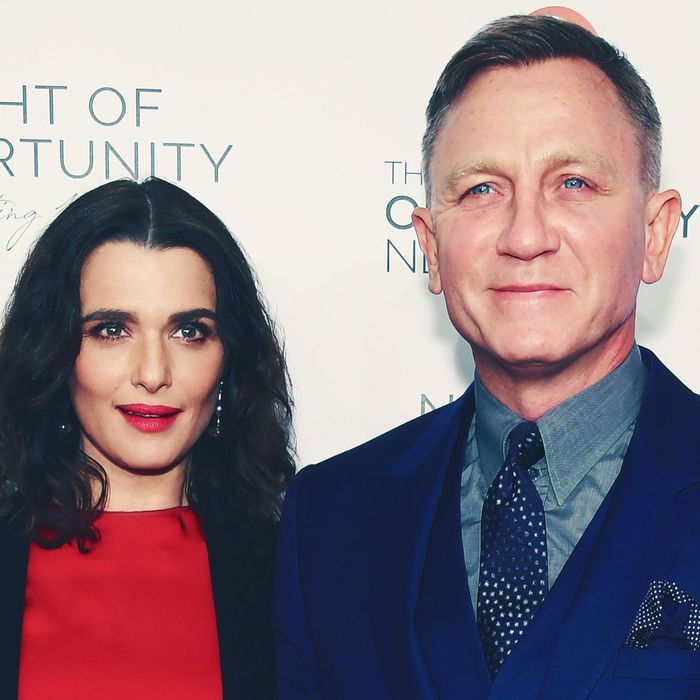 Rachel Weisz and Daniel Craig.
Photo: Dimitrios Kambouris/Getty Images
As we speak, storks are carrying a tiny little spy our way, one who may or may not have intimacy issues, a taste for martinis, and impeccable taste in suits.
In an interview published by the New York Times on Friday, actress Rachel Weisz, 48, told Maureen Dowd that she and her husband of seven years, James Bond actor Daniel Craig, 50, are expecting their first child together. At the urging of her editors, she says, Dowd asks Weisz to what she attributes her glow, and per the Times:
The actress explains that she used to have a moon face, but as she got older, she lost her chubbiness and found her cheekbones. But then she takes pity on me, a supposedly trained observer, and pulls up the loose gray sweater she's wearing to reveal her secret.




"I'll be showing soon," she says, with a radiant smile. "Daniel and I are so happy. We're going to have a little human. We can't wait to meet him or her. It's all such a mystery."




Wow, I say, grinning back at her. A little 007½.
007 1/2! I like it, and I hope that's what they name the baby. Weisz and Craig both have children from previous marriages — Weisz has an 11-year-old son, Max, with Mother! director and newsboy-cap aficionado Darren Aronofsky, and Craig has a 25-year-old daughter, Ella. with actress Fiona Loudon.
Though I imagine they might be biased, I hope the baby, unlike Weisz, endorses the one true Bond.