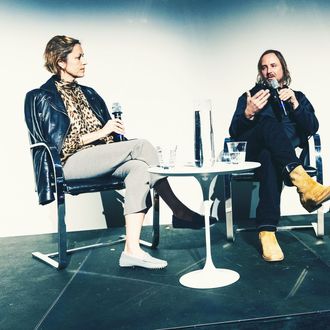 Photo: Photo by Maggie Janik, courtesy of Harvard Graduate School of Design
There are fashion and art collaborations, and then there's Raf Simons and Sterling Ruby. Simons, the famed Belgian designer and current chief creative officer at Calvin Klein, has teamed up with L.A.-based contemporary artist Ruby on projects ranging from a joint clothing collection to the design of Madison Avenue's yellow-drenched Calvin Klein retail store. Over the past ten years, they've transcended the typical artist/designer relationship, moving from friendship and admiration to a true fusion of their work.
On Monday, at the Harvard Graduate School of Design on Monday, the two participated in the spring's final Rouse Visiting Artist discussion, facilitated by Jessica Morgan of the Dia Art Foundation. Here are some of the best sound bites from the discussion.
On how they decided to work together:
Ruby: "We had a friendship and a shared set of things we found influential. I think we started to see people doing things that cross-pollinate between art and fashion … but not doing it very well."
Simons: "It's just a business decision very often. There might be something that triggers a designer's interest in an artist, but in all the rest it's just packaged to sell. I don't think we really had that intention … Also, in the early days, I felt [Ruby] was somebody who makes this total environment. It's not about the sculpture, or a painting, or collage — it's an environment, it's an attitude, it's a unique point of view about a body of work."
On their low-tech methods of correspondence:
Ruby: "Anybody who has seen Dior and I will remember the scene where Raf takes a photo of the dress … I don't know if you realized it, but Raf was using an old flip phone. We would exchange ideas in any way possible, through FedEx, WhatsApp, texting, sending emails. Some of it was so low-tech: We would print things out, send them via FedEx, and the next day we'd get a cell phone snap of that print-out, wrapped around a model."
On collaboration vs. working alone:
Simons: "I believe very strongly in collaboration. This sounds so pretentious, but I think I have great ideas, and if I can share them with someone I admire, they become greater ideas. And if we both love something, it must be even better than if I love it."
Ruby: "I had almost the opposite — I'm really not a collaborator. If I hadn't had the history of my friendship with Raf and knowing we were on the same level with one another in terms of what we wanted and what we liked, I couldn't do it. I do have a pretty big studio and a pretty big staff, but essentially the studio makes whatever I want to make. But when I started working with Raf, I didn't really feel like it was a collaboration. I just felt like it was a continuation of our friendship and our trust in one another."
Sterling Ruby on stepping into the fashion world:
"I had a lot of hesitation, but it wasn't me hesitating, it was people around me. I had art dealers blatantly say, 'This is a bad idea. Don't do this.' … I had been making my own clothes, but I wasn't thinking of that as fashion. But over time, I started to feel so disheartened by the idea of what art was becoming. And if there was commodification in fashion, there was certainly a commodification happening year ago with art."
On the changing face of fashion writing:
Simons: "I wish there was more critical writing in fashion. I wish, wish, wish."
Ruby: "If you look at Cathy Horyn vs. Roberta Smith, they're both brilliant. And Cathy writes lengthy critiques of fashion. But I think in both art and fashion, the contingent of analytical writing that breaks down what's happening and offers a critique — that's happening less now than it did in the past."
Sterling Ruby on Virgil Abloh's rise at Louis Vuitton and how young people interact with fashion:
"One of the things that's happening is that there's this kind of behavior analysis in the way people want to look in public. I guess that was always the case with high fashion, but in a strange way, it has been re-proportioned from an older generation to a much younger generation.
And that younger generation wants — at least the way I see it — to have pieces that are unique, they want to have pieces that are made extremely well and of nice materials. These are thing that are being mashed up and mixed up, and it's almost like the curatorial process, or the styling process, is giving the wearer more liberty. It's not like wearing one dress from Chloé. It's giving the wearer the presence and the passion to mix it up.
I also think what's happening is that the Grailed phenomenon is giving people the chance to buy and sell. An entirely younger demographic is looking at it from almost like a collector's perspective. Like, 'What you you have? Oh my god, I'm gonna trade that for that.' I really like that.
I don't necessarily know if that's getting at Virgil in particular, but I think Virgil becoming Louis Vuitton's person suggests that luxury brands want to have access to that."