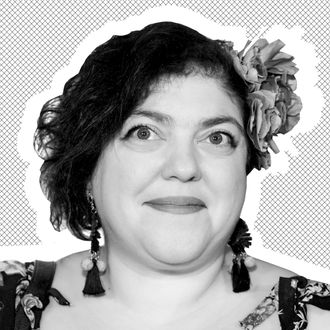 Randa Jarrar.
Photo: Charley Gallay/Getty Images
Last week, after news broke that Barbara Bush had died at the age of 92, writer and English professor Randa Jarrar took to Twitter to share her thoughts on the former First Lady. "Barbara Bush was a generous and smart and amazing racist who, along with her husband, raised a war criminal," she wrote. "Fuck outta here with your nice words."
With that tweet, she quickly found herself at the center of the latest free-speech controversy. Jarrar has both received a torrent of online abuse and been skewered by conservative outlets such as Fox News, as well as vehemently defended by those who believe in her right to say what she wishes.
At the crux of this is the issue of Jarrar's employment. Many of the initial outraged replies called for Jarrar to be let go from her position at California State University, Fresno. In response, she tweeted that she couldn't be fired because she has tenure. (She was already on leave for the spring 2018 semester.) After the news began picking up the story, Fresno State initially appeared to side with her critics.
"A professor with tenure does not have blanket protection to say and do what they wish," university president Joseph Castro told the Fresno Bee in the immediate aftermath. "We are all held accountable for our actions." He added that "this was beyond free speech. This was disrespectful," while an official statement called Jarrar's views "obviously contrary to the core values of our University." (A follow-up statement then emphasized support for "academic freedom.") The university indicated that they're investigating Jarrar, and a Change.org petition to fire her has over 30,000 signatures at the time of publication.
In spite of all the backlash, Jarrar told the Cut she "absolutely" stands by her comments.
"I felt compelled to speak up because I want people to remember history. I want people to know that our country's actions don't just disappear; they have real, negative consequences," she said in an email. "If we want a better future, we have to confront our past." Jarrar elaborated on her criticism of the former First Lady, citing the Bush family legacy in Iraq and Barbara's comments about Anita Hill (whose claims she doubted) and Katrina victims (she once said evacuees were "underprivileged anyway" and better off in the Astrodome). "The Bush family — including Barbara Bush — supported policies that harmed and destroyed the lives of millions," she said.
Jarrar is of Egyptian, Greek, and Palestinian heritage and her writing — including her semi-autobiographical novel, A Map of Home, and her short story collection, Him, Me, Muhammad Ali — often touches upon Arab-American and Muslim-American themes. When asked if she believes she received more abuse because of her ethnic background, Jarrar said she does. "I am not the only person who has stated the belief that Barbara Bush was a racist," she explained. "But women of color routinely have their tone policed, their justified anger painted as hatred, and their criticism of injustice framed as racism toward white people."
As for the issue that has garnered the most attention — whether or not Jarrar will lose her job — she said she has "not received any official emails from the university or any details about a so-called investigation." (The Cut reached out to Fresno State to confirm this, and will update this article when we hear back.) "Our First Amendment rights must be protected, now, more than ever," she said. "The university must remain a space for critical inquiry, even if it challenges what we believe."
Jarrar also says she only brought up the issue of her tenure in the first place after several people told her she was unfit to teach college students. "Some may characterize those tweets as gloating," she explained. "I would say that when a woman states any facts about her employment, she is usually met with charges of arrogance." She added that her salary, which she came under fire for sharing, is publicly listed.
Ultimately, Jarrar didn't expect her comments to blow up to the extent that they did and expresses a desire that the conversation could've been framed differently. "Again, because I can be at times overly optimistic or perhaps idealistic, I wish the conversation we were having as a nation today was about how we mourn problematic figures," she said. "Instead, it has become a kind of mourning of our rights to free expression."
Update, 8:07 p.m: Fresno State president Joseph Castro released a letter on Tuesday afternoon, writing that the university "carefully reviewed the fact and consulted with CSU counsel" and ultimately determined that they do "not have justification to support taking any disciplinary action" against Jarrar.