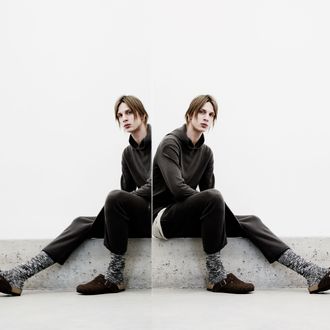 A model for Rick Owens's capsule collection.
In addition to making a new line of furry Goth sandals for Birkenstock, the famously stoic designer Rick Owens is also rolling out a capsule collection of cozy ready-to-wear apparel, launching exclusively at the Birkenstock BOX in Los Angeles starting April 17.
The collection features the same socks and sandals he made for Birkenstock, and boy, does it make socks and sandals look good — which is impressive, considering that's a hotly debated topic in the fashion world.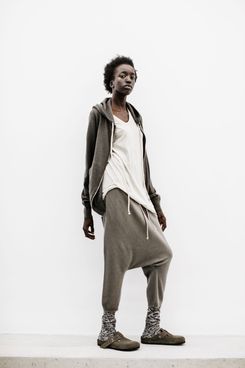 The clothes look remarkably cozy, which is a new style for Owens and a departure from the intricate, origami-like designs he's known for. There are heavy-knit knee socks and dark felt slippers, roomy sweatpants, oversize hoodies, and a gorgeous maxi skirt/tank top combo.
Luckily for shoppers in Los Angeles, the collection is exclusively available at the retail concept Birkenstock BOX, a large, white, rectangular prism that will be open at 819 N. La Brea Avenue from April 17–21. Grab us one of the maxi skirts, would you? See the full collection below.