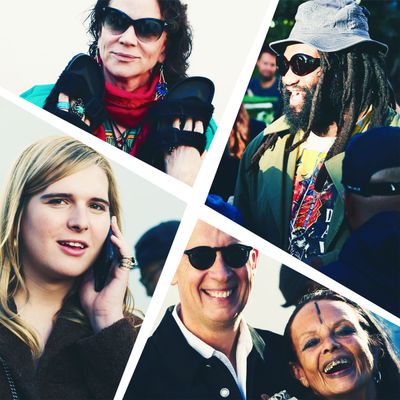 Palm trees, fresh-juice cocktails, and an amazingly green synthetic lawn set the stage for the Rick Owens x Birkenstock collection launch party last night in Los Angeles, where fashion editors and influencers gathered to celebrate the coolest shoe of the season. The two brands created furry sandals and clothing that makes wearing socks and sandals look good. To fête the collaboration's release, Owens's wife, creative associate, and business partner Michele Lamy co-hosted the party with W editor Stefano Tonchi at the Rick Owens L.A. store.
As an ode to the couple's eccentric style, the party décor reimagined a one-night revival of Lamy's legendary Les Deux Cafés nightclub and restaurant, a staple of the L.A. scene in the '90s. Guests including Hari Nef, Lisa Eichner, and J. Alexander sipped cocktails and enjoyed bright-colored popsicles and foot massages with Birkenstock Natural Skin Care products, a gift from the shoe gods. NTS radio's James Bailey and Mad Bad Ting alternated as DJs.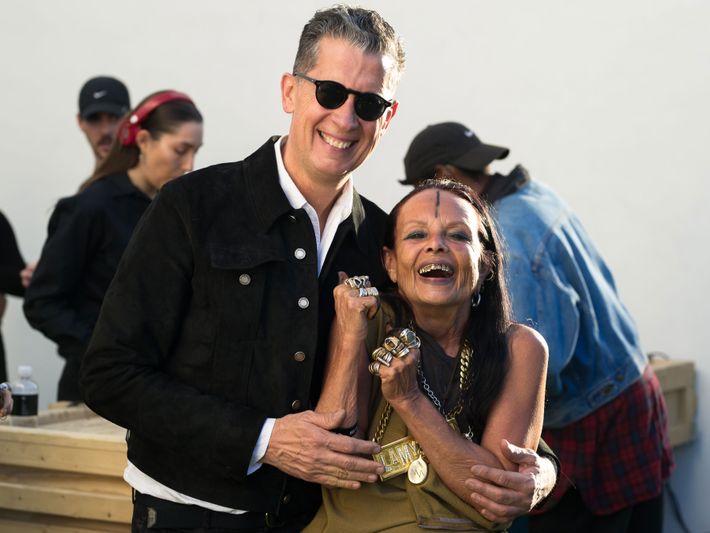 Birkenstock CEO Oliver Reichert told the Cut that collaborations like these take many months of consideration because the brand so rarely introduces changes — in fact, this is the brand's first collaboration with an individual designer. "We look for designers whose work follows a red line, whose main focus is quality. Owens owns his own factory in Italy when he could make more money making things in China, but he wants to control his quality. We are the same — antagonistic to the fast-fashion industry."
See more photos from the party below. The new Rick Owens x Birkenstock shoe line will be available online as well as in the pop-up installation outside the Rick Owens store on La Brea Avenue called "the BOX," with an exterior fashioned from converted freight containers (designed by the Berlin-based studio Gonzalez Haase AAS) and an interior designed by Owens. Casual sportswear and cashmere separates designed by Owens, a limited-edition cosmetics kit and a curated look book of Birkenstocks spring and summer 2018 styles will also be exclusively sold at the pop-up.
The BOX is open at 819 N. La Brea Ave. in Los Angeles and closes this Saturday. The Birkenstock BOX x Rick Owens collection is available online at Birkenstock.com and at Rickowens.eu.