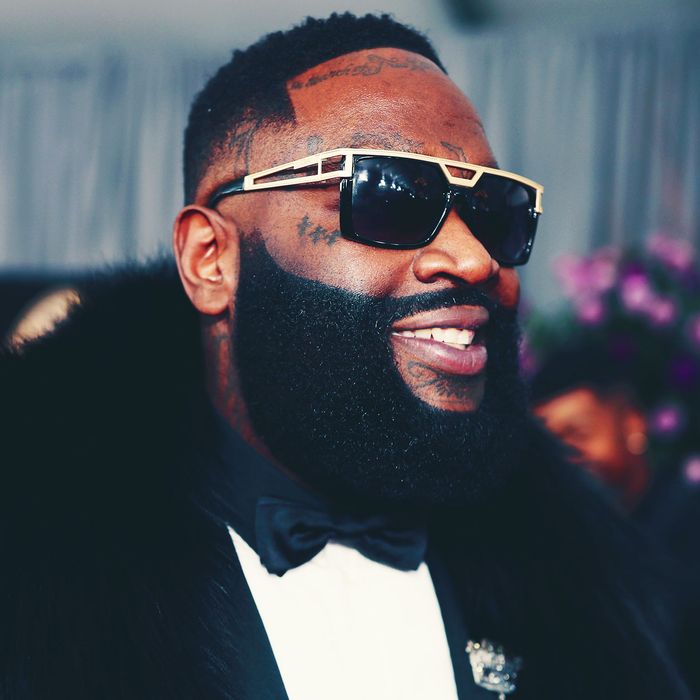 Rick Ross.
Photo: Christopher Polk/Getty Images for NARAS
Who would make a beauty collection featuring weed, Champagne, and caviar? A world-famous rapper with a killer closet, of course. Rick Ross is launching a nine-piece collection of grooming products called RICH. Despite the name, the collection will be affordable — each product is priced between $12.99 to $15.99.
Ross, who himself has a very impressive beard, has built the collection around grooming products for men with facial hair. The collection will include a beard oil, shampoo, conditioner, hair & body wash, styling gel, shaving cream, aftershave balm, classic pomade and styling wax.
Clearly, Ross has been reading up on hot beauty trends, because he's included hemp-seed oil in every single product. It's part of what he's dubbed, "the boss experience" which is the combination of hemp-seed, Champagne extract, and caviar extract included in each product. He chose Champagne extract for the anti-aging component, caviar to moisturize and protect against UV rays, and hemp to soothe, plump, and moisturize. Also, that combination of the three just sound good together.
The collection will launch in limited qualities this May, but will be available nationally in July at Sally Beauty Supply, in-store and online.