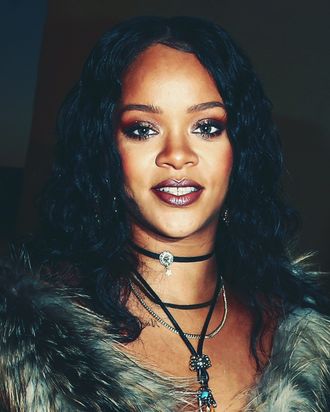 Rihanna.
Photo: Rich Fury/Getty Images
Rumors have been swirling about a potential Rihanna lingerie line since Fashion Week this winter, where some speculated she would debut the collection. This week, Rihanna began dropping hints on Instagram about something X-rated, which only continued to fuel these rumors. And today, Rihanna revealed that yes, she's launching a lingerie line under the Fenty umbrella. We don't know much else beyond that, other than that the line is called Savage, and it's "coming soon."
Savage! It's certainly not a word you hear often to describe lingerie, which is exactly what makes it perfect. Rihanna revolutionized the beauty industry with her Fenty makeup collection, which offers customers more shades than most. Now, it seems she's trying to shake up the lingerie market.
To say we're excited is a gross understatement. For further updates on Rihanna's lingerie, you can sign up now at Savagex.com.