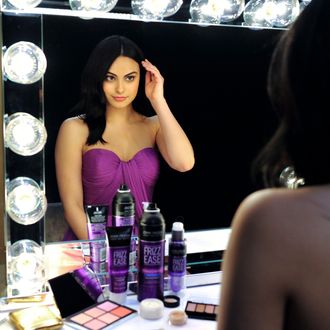 Camila Mendes.
Photo: MICHAEL SIMON/John Frieda Hair Care
Riverdale's Camila Mendes has the best hair on the show.
(Madelaine Petsch is a close second.) Maybe it's the fancy New York City hair salons her pearl-obsessed character, Veronica Lodge, probably goes to, or it could also be John Freida's Frizz Ease collection, which Mendes has been using off-screen for years. The popular hair-care brand took notice of the actress's smooth styles and named her the face of the collection. Mendes and John Freida took to Instagram late last night to announce the news and tease the brand's new Your Hair Talks, Make a Statement campaign.
With the campaign, Mendes and Frizz Ease will create content about the products she loves, and celebrate how hair can transform a look and make women feel empowered and confident. By the looks of John Freida's Instagram, Mendes might be working on a commercial or videos to share on social media as well.
Mendes is already at work promoting the frizz-eliminating Extra Strength Hair Serum, which she said she discovered in fifth grade. She said the serum has helped her hair recover from damaging keratin treatments she used to get while living in humid Miami. Hopefully her new job also involves showing us how to get her signature subtle waves and how to keep our hair as shiny as hers.