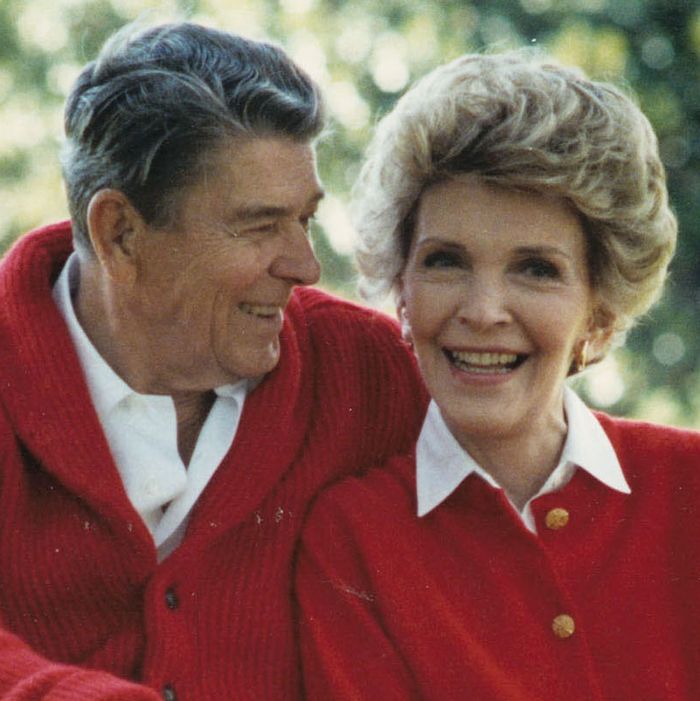 Ronald and Nancy Reagan.
Photo: Photo courtesy of the Ronald Reagan Presidental Library/Getty Images
According to a new book about Nancy Reagan's life, former president Ronald Reagan used to turn off his hearing aids during dinner to tune out whatever his wife was saying — probably something about her "Just Say No" campaign during the War on Drugs, but certainly nothing about AIDS.
The aforementioned book is Lady in Red, which Random House published today. Written by Sheila Tate, who served as the former First Lady's press secretary from 1981–1985, the book is reportedly chock-full of behind-the-scenes stories from Nancy's life.
According to New York Daily News, the hearing aids tidbit was recounted to Tate by Dennis LeBlanc, a longtime aide to the 40th president. Per the Daily News:
"President Reagan would secretly turn off his hearing aids during dinner and nudge Dennis with his foot as a signal that they were off; if Nancy directed a question to her husband, Dennis would use his own foot to nudge President Reagan," Tate writes. If what Nancy said to him was a question, Reagan would reportedly respond, "Darn it, Nancy, what did you say? These hearing aids aren't working right."
Wonder how Nancy — once the fiercest protecter of her husbands image — would respond to this anecdote were she still alive today.