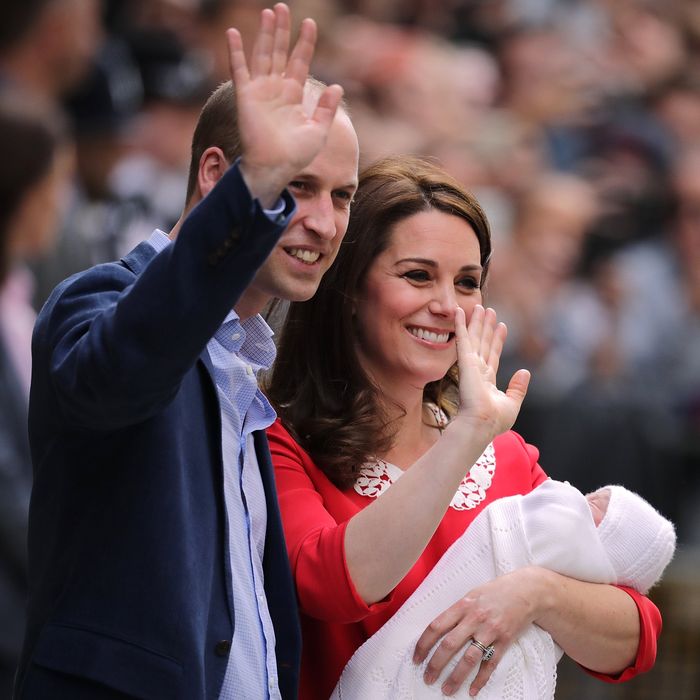 Kate Middleton, Prince William and the new baby.
Photo: Dan Kitwood/Getty Images
Congratulations to us all! In an important event that affects each of us personally, Kate Middleton gave birth to her third child with Prince William, a baby boy, on Monday morning at the extremely wild Lindo Wing of St. Mary's Hospital in London. This is such exciting news for us — and also for the Duke and Duchess of Cambridge's two older children, Prince George and Princess Charlotte, but mostly for us.
Although the baby boy's full name has rudely not yet been revealed to us, his closest friends and family, we have still been blessed with a ton of other tidbits about the newest British prince that can tide us over for now. Here, a few things to know about the new royal baby.
This is a big baby (by royal standards).
We say this purely as a fact and not at all in a body-shaming way, but apparently, this baby is biiiiiggggg. Weighing 8 lbs and 7 oz, the Daily Mail notes that the new royal baby was the "heaviest at birth" of any royal child in the past 100 years. In contrast, Princess Charlotte weighed 8 lbs 3 oz when she was born and Prince George was 8 lbs 6 oz.
It was a quick birth.
Kate Middleton was only in the hospital in labor for five hours. Five! And on top of that, she was planning on having an unmedicated birth.
His birth marks an important moment in British royal history.
Not only is the baby's birth important because 1) it's a new human in the world, 2) it's a new prince, and 3) we feel like we personally gave birth to it, but the arrival is also significant because of its impact on Princess Charlotte's place in line to the throne. Before Prince George's birth in 2013, British law dictated that any older sister in the royal family would have to move back a place in line to the throne if a younger brother is born. However, under the Succession of the Crown Act of 2013, that law was changed. So, for the first time in royal history, the birth of Princess Charlotte's new little brother has no direct impact on her position. She's still fourth in line to the throne, and the baby is now fifth in line (sorry, Prince Harry).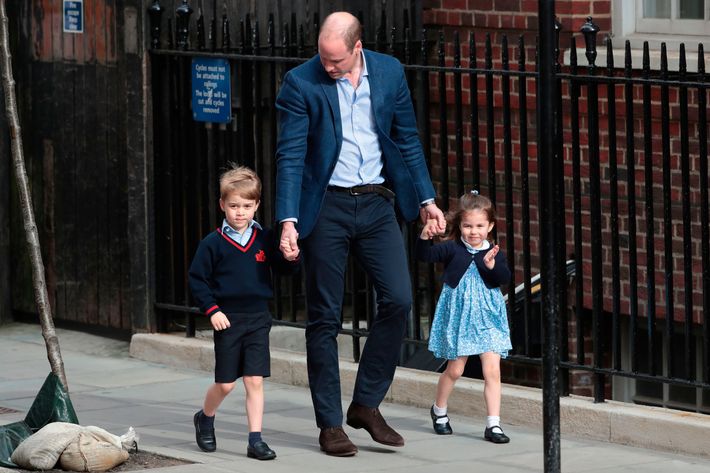 We already know the baby's royal title.
We may not know this baby's name yet, but we surely already know his royal title: His Royal Highness Prince [insert name here, please tell us the name, we need the name thanks] of the United Kingdom of Great Britain and Northern Ireland. See, George is actually HRH Prince George Alexander Louis of the United Kingdom of Great Britain and Northern Ireland and Charlotte is HRH Princess Charlotte Elizabeth Diana of the United Kingdom of Great Britain and Northern Ireland. So the new baby is just going to follow that same pattern, though his birth certificate will likely read "… of Cambridge" instead (given that his parents are the Duke and Duchess of Cambridge).
The baby's mom Kate Middleton will still attend Meghan Markle and Prince Harry's wedding.
Despite the fact that Kate Middleton gave birth on Monday, April 23, the Duchess is still planning on attending Meghan Markle and Prince Harry's royal wedding on Saturday, May 19 — which is less than four weeks after she physically pushed a human being out of her body. We have already heard that Meghan and Harry have (graciously) told Kate that she can take it easy during the wedding, but still, that's a short turnaround to have to attend a public event after labor. We have no reason to believe the new baby will be attending the nuptials, though.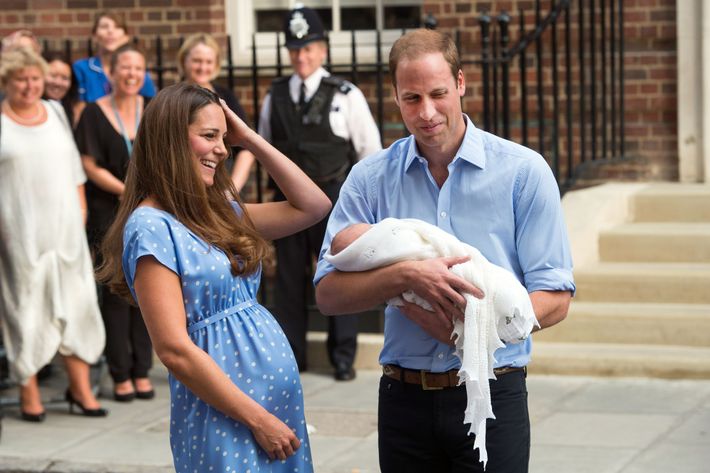 Kate Middleton and the baby headed home on Monday evening.
Shortly after the respective births of Prince George and Princess Charlotte, Kate Middleton was photographed (looking amazing) as she left the Lindo Wing to recuperate from labor at home. The same thing happened this time around. Mere hours after giving birth, Kate Middleton and Prince William were photographed leaving the hospital with their new baby boy. She wore heels and a red Jenny Packham dress. Let's once again stress that she literally pushed a human out of her that very same day, and still looked absolutely picture perfect.
This post has been updated.