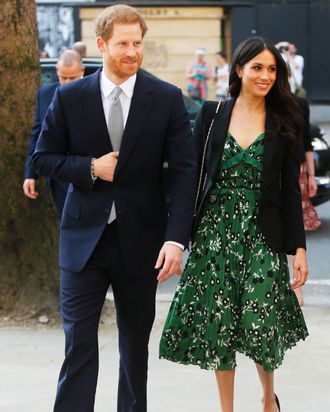 Prince Harry and Meghan Markle.
Photo: Barcroft Media/Barcroft Media via Getty Images
Prince Charles may not be a fancy toilet snob, but Meghan Markle and Prince Harry sure are. According to Vanity Fair, the couple wants their upcoming wedding to have the absolute "poshest portaloos" so their guests can poop like royals on the big day.
After the official ceremony at Windsor Castle, Prince Harry and Markle are having their wedding dinner and party half a mile away at the Frogmore House, which reportedly does not boast royal-approved toilets as one of its features. Therefore, the couple wants to outfit the old house with luxurious loos, and lots of them.
"The couple will be going for the poshest portaloos money can buy, as they need extra loos for all the guests they have coming to the evening event" a wedding insider told Vanity Fair.
Were Prince Harry and Markle inspired by Pippa Middleton's wedding, which featured "throne rooms" with porcelain basins, spot lighting, and vacuum flushes? The rumored mom-to-be reportedly spent £6,000 on the loos at her wedding to her financier husband James Matthews.
Whatever their inspiration, this is great news for Prince Charles, who now won't have to show up* to the royal wedding with his own fancy toilet seat!
*(Charles, we know you've denied the rumors, but we simply could not resist.)