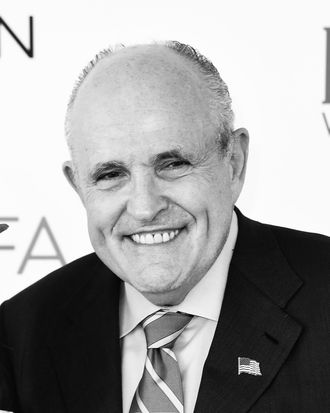 Oh yeah.
Photo: Nicholas Hunt/Getty Images
About a week ago, news broke that Rudy Giuliani and his third wife, Judith, would be divorcing after 15 years of marriage. It was certainly not as dramatic as the end of Giuliani's second marriage (his then-wife found out about it from a press conference) or his first (he got it annulled after finding out he and his then-wife were related). But, according to gossip columnist Cindy Adams at "Page Six," the news of his newly single status has driven women mad with horniness.
And by "women," Adams apparently means "a feral cat colony that heard someone opening a can of tuna":
The about-to-be-consciously uncoupled Rudy Giuliani is coming off to Upper East Side sex kittens like catnip. They're purring at him. Sidling — if not actually front-ling — in his direction.
Wait, don't wash your brain yet! Take this source, who is definitely not a stack of dentures in a trench coat named Fudy Biuliani:
Pussycats in their 40s — so OK, so like maybe really late 40s — are setting saucers of milk. One meowed she's "always loved Rudy." And, "No matter what, he's still Rudy" — whatever that means.
Because nothing says "this guy fucks" quite like wearing AirPods like this.