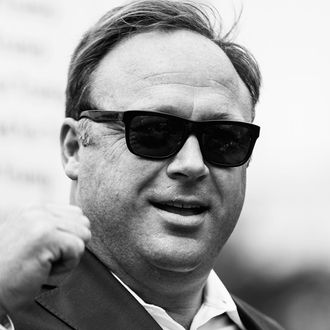 Alex Jones.
Photo: Brooks Kraft/Getty Images
Three parents who lost their children in the 2012 Sandy Hook school shooting are now suing conspiracy theorist and InfoWars host Alex Jones for defamation. Jones has repeatedly told his listeners that the Connecticut shooting, which claimed the lives of 20 children and six adults, was a false-flag operation in which no one died.
HuffPost reports that Neil Heslin — who lost his 6-year-old son — and Leonard Pozner and Veronique De La Rosa — whose 6-year-old was also killed — filed two lawsuits in Austin, Texas, where InfoWars is based.
Each suit is seeking $1 million in damages. In 2016, New York Magazine covered Pozner and how he was dealing with the rise of Sandy Hook hoaxers — some of whom were harassing him personally. "Conspiracy theorists erase the human aspect of history," Pozner said at the time. "My child — who lived, who was a real person — is basically going to be erased."
"Even after these folks had to experience this trauma, for the next five years they were tormented by Alex Jones with vicious lies about them," their lawyer, Mark Bankston, told HuffPost. "And these lies were meant to convince his audience that the Sandy Hook parents are frauds and have perpetrated a sinister lie on the American people."
Jones is also facing defamation suits related to last year's white supremacist rally in Charlottesville, Virginia, and February's shooting at Marjory Stoneman Douglas High School. He settled a separate defamation suit with Chobani last year.