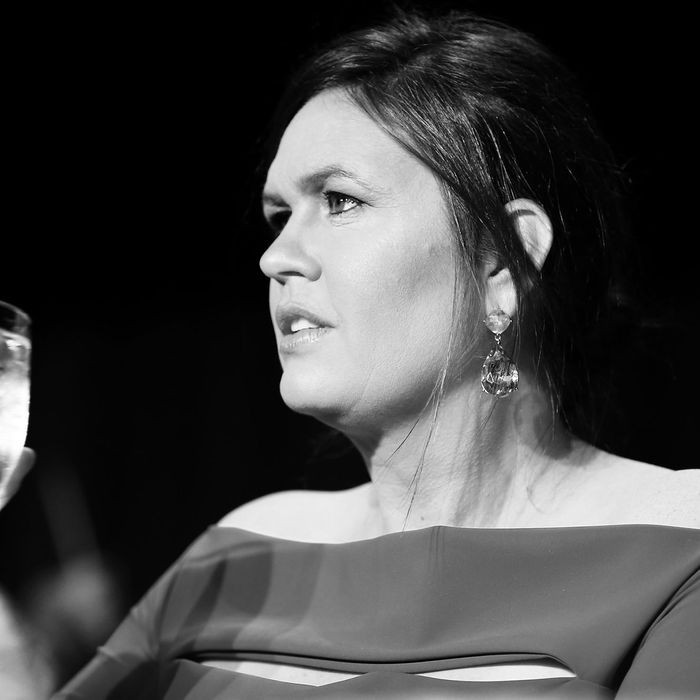 Sarah Huckabee Sanders.
Photo: Tasos Katopodis/Getty Images
Comedian Michelle Wolf spared absolutely no one at last night's White House Correspondents' Dinner, but one of her jokes has proven to be especially divisive: a jab about Sarah Huckabee Sanders's eye makeup.
After comparing the White House press secretary to Aunt Lydia in The Handmaid's Tale, Wolf said, "I actually really like Sarah. I think she's very resourceful. But she burns facts and then she uses that ash to create a perfect smoky eye. Like, maybe she's born with it, maybe it's lies. It's probably lies."
Some people really did not like this joke, ostensibly because they perceived it to be an inexcusable criticism of Sanders's appearance.
Which was an odd read, given Wolf explicitly compliments Sanders's "perfect smoky eye." What Wolf did criticize Sanders for, though, is being the Trump administration's mouthpiece, which requires her to lie! All the time! To anyone! About anything! (Except, maybe, about pecan pie.)
This is not to say that Sanders has never been the subject of tactless, sexist remarks. Perhaps the most egregious example of this was when a Los Angeles Times columnist referred to her as a "chunky soccer mom."
Wolf's joke last night, though, was not sexist. The lies that Sanders spews on a regular basis have consequences, and the fact that a comedian forced Sanders to face her actions in a room full of powerful people was, objectively, good.
And I bet Sanders's makeup artist liked the bit.