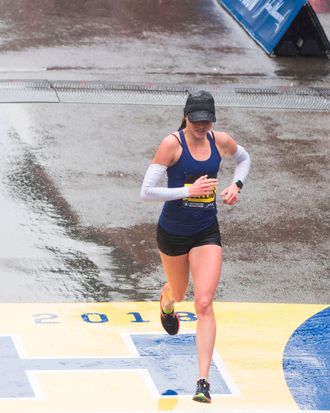 Sarah Sellers crossing the finish line.
Photo: Ryan McBride/AFP/Getty Images
Much has been made of Desiree Linden's victory at the Boston Marathon yesterday, when she became the first American woman to win the race since 1985. But there's another remarkable, and far more surprising, story about Sarah Sellers, the woman who placed second: she isn't even a professional runner.
Even with weather conditions that included strong winds and pouring rain, Sellers managed a time of 2:44:04. The 26-year-old ran competitively in college but was sidelined by injuries and ultimately pursued a career as a nurse anesthetist in Tuscon, Arizona. This was only her second marathon ever.
She's planning to use the unexpected $75,000 in prize money to pay off her student loans.
"I still can't believe I finished second," Sellers told the Washington Post. "I'm going to wake up and this will be a dream."