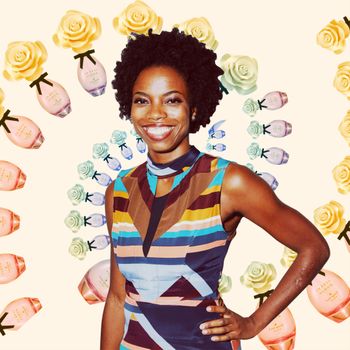 Photo-Illustration: Stevie Remsberg/Getty Images
Call it the Proust effect: Memories are best triggered by smells. Scientific studies confirm that out of all the senses, smells and fragrance offer the best recall. Our new feature, Scent Memories, will ask its subjects to talk about the scents they associate with different emotions and thoughts. Next up is Kate Spade's newest ambassador, Sasheer Zamata. You know her as Saturday Night Live's Beyoncé, but her new role is fronting Kate Spade's latest scent, In Full Bloom. The eau de parfum lives up to its floral name. With top notes like lemon and green tea, the fragrance opens bright and eventually settles into a modern flowery perfume with rose, peony, and white wood as the scent's anchors. Think of it as the antithesis of your grandma's powdery eau de parfum. For In Full Bloom's launch, Zamata spoke with the Cut about sexy body odor, the scent of summer, and why she might smell like dryer sheets.
My first scent memory: My grandma's house. It smelled like potpourri and cats. Everyone knows what their grandma's smells like, but it's kind of hard to describe. She had a distinct grandma smell — and her house did too. I'm sure there were a lot of things that contributed to that smell, like old furniture and old clothes. It's a smell that feels like family, and like home.
The smell I associate with love: Honestly? Body odor. When you really love someone you don't care if they stink. And you also kind of like it … even though it's gross. When you're in love you want it all — what makes you smell good and what makes you smell bad. You're just in bed, stinking it all up.
Happiness smells like: A nice sunny day and fresh-cut grass. I think of being in a park, laying out, and hanging out with friends with a bottle of wine. It's a summer smell.
Heartbreak or loss smells like: Whiskey. Or any alcohol, because that's how I would deal with it.
Sunday morning smells like: It's a dryer sheet smell. On Sundays I'm either lying in bed all day, or I'm doing laundry. It's a clean, crisp kind of smell. If I'm rushing, I'll rub a dryer sheet on the inside of my jacket.
If you could have one smell on your hands forever, what would it be and why? Cocoa butter. Whenever I put it on my body it just smells so good — I could smell it for a lifetime.
I smell like: Cocoa butter and hair products — so a lot of oils. I smell like a black girl!