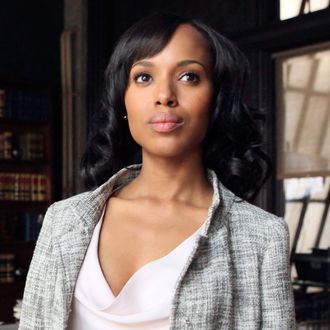 Photo: Danny Feld/ABC via Getty Images
In the seventh episode of the fourth season of ABC's Scandal, Secret Service agent/B613 spy Tom Larson (Brian Letscher) catches himself staring at Olivia Pope (Kerry Washington), the crisis PR maven at the center of the show. It's the first time he's seen her up close. Usually, he's focused on doing his job — protecting President Fitzgerald "Fitz" Grant (Tony Goldwyn). Now, he gazes at her. "I've never seen you," he says, "and you are beautiful. The face that launched a thousand ships." The line is of course a reference to Helen of Troy, the most beautiful woman in the world, according to Greek mythology, and the impetus for the Trojan War.
Olivia looks back at him, her luminous brown skin popping against one of her signature white coats. She has large, bright doe-eyes, impossibly symmetrical cheekbones and full, pouty lips. Tom sits in awe, marveling at her beauty and her power. "You are beautiful," he says again. "But really it's what's behind your eyes. I can see it. And you know they all love you — my president, Jake, Command — they all love you. And I can see it. I can see why. Helen of Troy. The face that launched a thousand ships."
This is more than a flirtatious metaphor. In Scandal, which will air its final episode on Thursday, show creator Shonda Rhimes positions Olivia Pope not as the most beautiful black woman in the world, but the most beautiful woman in the world, period. But Olivia's more than just a pretty face — she has intelligence and drive and beauty, which combine to have a far-reaching effects on the show's men.
Throughout the show's seven seasons, we watch as Fitz and other powerful white men go to extreme lengths to prove their love for her. In season two, Fitz blows up his marriage and potentially his presidency by choosing Olivia, telling her: "I love you more than I love being president." In season four, he declares a war on "West Angola" in order to save a kidnapped Olivia. While surveiling her for the president, Admiral Jake Ballard (Scott Foley) becomes enamored to the point of obsession with Olivia. At the end of season three, he abandons his life in Washington, D.C., to join Olivia on a remote island. Once the two have resumed life in D.C., Jake begs Olivia, repeatedly, to return to the island with him.
It's rare to see a black woman portrayed as such a potent symbol of desire in television and film. When black women are positioned as the so-called "hot one" or the love interest onscreen, it tends to come with some sort of caveat — or limitation. Saved by the Bell's Lisa Turtle is aggressively pursued, but by the school's resident dweeb, Screech. In Family Matters, Laura Winslow is adored by Steve Urkel, arguably the most quintessential nerd character in television history. In Sister, Sister, Tia and Tamara's most ardent admirer was their annoying, ubiquitous neighbor Roger. But in Scandal, show creator Shonda Rhimes made a black woman's primary suitors powerful white men. These weren't Olivia's only love interests; she also dated Senator Edison Davis, who is black, and had flings with B613 agent Franklin Russell and TV anchor Curtis Pryce, who are, respectively, black and Mexican. As with Helen of Troy, all men are vulnerable to Olivia Pope's allure.
Throughout her career, Shonda Rhimes has been both overt and subtle with the social and political commentary in her shows. We've seen female characters on her shows getting abortions, putting their careers first, and grappling with the aftermath of sexual assault. With Olivia Pope, I doubt Rhimes ever meant to suggest that being pursued or loved by a white man is more valuable than being pursued or loved by any other man. But perhaps she wanted to say something about how the world looks at the type of women who is loved by one.
This season, Fitz asked, "Is Olivia Pope everyone's world or just mine?" The answer is both. On Thursday nights, for the past six years, Olivia Pope ran the world, in one way or another. The most beautiful woman in the world was a black woman. It was as if Helen stood in her castle, witnessing the chaos she'd created and considering the power she alone possessed. In every way, the only one.