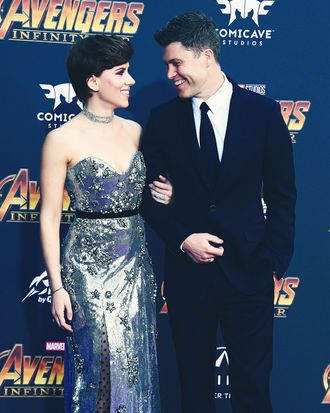 Scarlett Johansson and Colin Jost.
Photo: Steve Granitz/WireImage
Welcome to You Know What I Heard, the Cut's weekly celebrity gossip column about the peregrinations of the rich and famous.
The big ticket in Hollywood last night was the Avengers: Infinity War premiere. The film stars just about every celebrity you know and many you don't: Gwyneth Paltrow, Robert Downey Jr., Tom Hiddleston, Idris Elba, Josh Brolin, Elizabeth Olsen … the list goes on. This movie has three of America's top four Chrises! (Pratt, Evans, and Hemsworth — sorry, Pine.) And so now seems like as good a time as any to discuss the relationship statuses of several members of the cast. (I have no idea what the movie is about.)
Making the most news last night was Scarlett Johansson, who posed with SNL's Colin Jost (formerly of the Harvard Lampoon) on the red carpet for the first time. The two have been dating since May of last year, but they had a bit of a rocky start: Johansson was rumored to be seeing other people at the beginning, when she was filming Infinity War in Atlanta. Jost persisted through it all, telling a red-carpet reporter at the Emmys in September that Johansson — who did not show up to the event — was "pretty awesome." And look at them now: officially official. Congratulations, Colin Jost, on getting literally everything you ever wanted in life.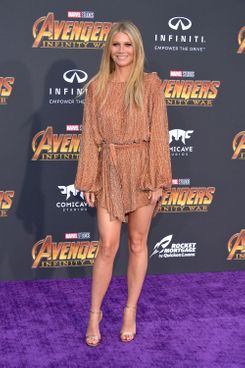 Gwyneth Paltrow, meanwhile, posed solo on the red carpet. It's been a busy few weeks for the guru, who's been planning her wedding to Glee producer Brad Falchuk. This past weekend, she had a bridal shower, which was attended by Nicole Richie, Rachel Zoe, and the elusive Cameron Diaz. The weekend before that, Falchuk's producing partner Ryan Murphy hosted a 400-person engagement party for the couple, which turned out Jennifer Aniston, Reese Witherspoon, and Julia Roberts. And the weekend before that, Paltrow had a bachelorette party in freaking Cabo. The actual wedding, according to "Page Six," will take place in the Hamptons later this year.
Chris Pratt also arrived solo to the premiere, but he posed for a few photos with co-star Evangeline Lilly on the red carpet. (Seriously, every single person in L.A. is in this movie.) The pics prompted the Daily Mail to accuse the pair of "flirting." Here's a video of them posing together. What do you think? Flirting or no?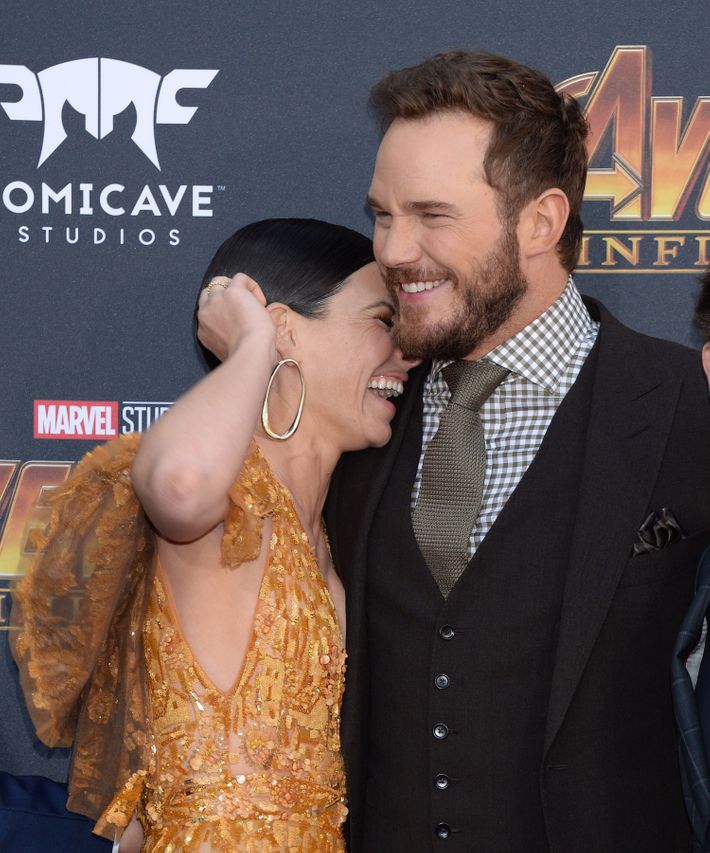 I think Pratt's next girlfriend will be someone with a low profile who wants to go to church every Sunday. (His ex-wife Anna Faris's lack of religion was reportedly a point of contention in their marriage.) Maybe the anonymous, "mystery blonde" he was spotted getting coffee with in February fits the bill?
Is Justin Theroux the king of the Streetwear Pussy Posse? It's an interesting theory from Garage magazine's Rachel Tashjian. She posited in an essay published yesterday that Theroux and his buddy Jonah Hill are defining a new kind of New York cool by posing on Howard Street "a.k.a. Clout Alley, a.k.a. the epicenter of streetwear flexing" in Supreme sweatshirts and Grateful Dead T-shirts. They care more about streetwear than girls! Except, of course, Theroux still cares about girls. He was spotted hanging out with a 25-year-old model named Erika Cardenas downtown last week.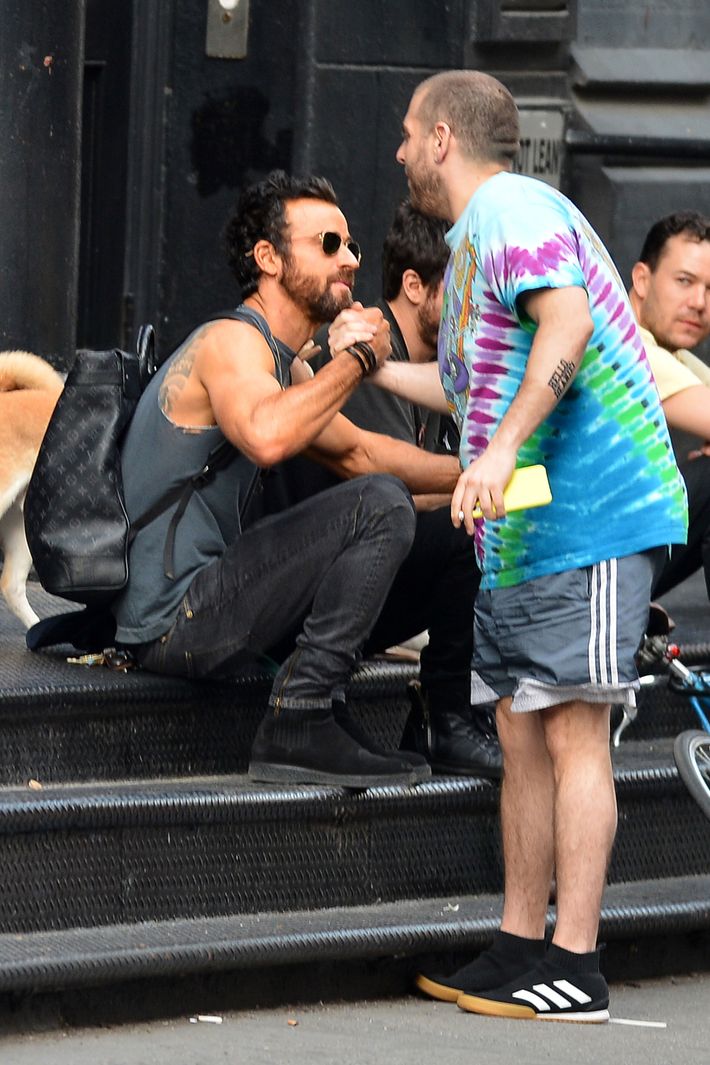 He also made a quick trip to L.A. for the birthday party of Jimmy Kimmel's 1-year-old son, Billy. Jennifer Aniston — gasp — also attended the party, but she reportedly arrived minutes after Theroux left. Do you think they text each other? Or did Kimmel give them different start times in order to keep the peace?
Khloé Kardashian is still in Cleveland, and the list of her baby daddy Tristan Thompson's infidelities keeps getting longer. Us Weekly reported last week that Thompson was seen cuddling with multiple women during All-Star weekend (right around Valentine's Day). The tabloid also reported that throughout Kardashian's pregnancy, Thompson frequently arranged hook-ups with other women by "sliding into their DMs" on Instagram.
Kardashian hasn't left Thompson's home in Cleveland since giving birth to daughter True Thompson earlier this month. According to People, she "isn't ready to give up on her relationship with Tristan" and "she's still very torn." Thompson is currently on the road with the Cavaliers but is expected to be back in Cleveland tomorrow. Go home to Calabasas, Khloé!
The Rock's girlfriend Lauren Hashian gave birth to their second child yesterday, a very sweet baby girl named Tiana Gia Johnson. He announced the news on Instagram with a picture of himself, shirtless, cradling the baby.
John Stamos did the same thing earlier this month when his wife Caitlin McHugh gave birth to their first child, Billy.
What do you think about the mom-free baby announcement photo? To be fair, both the Rock and Stamos praised their partners in their captions. But I think: I'd like to see pics of the moms!
One small blessing from this week:
Jemima Kirke reportedly hosted a stoop sale outside her Brooklyn brownstone this past weekend. "She was selling unopened Girls DVDs and taking Venmo," a source told "Page Six."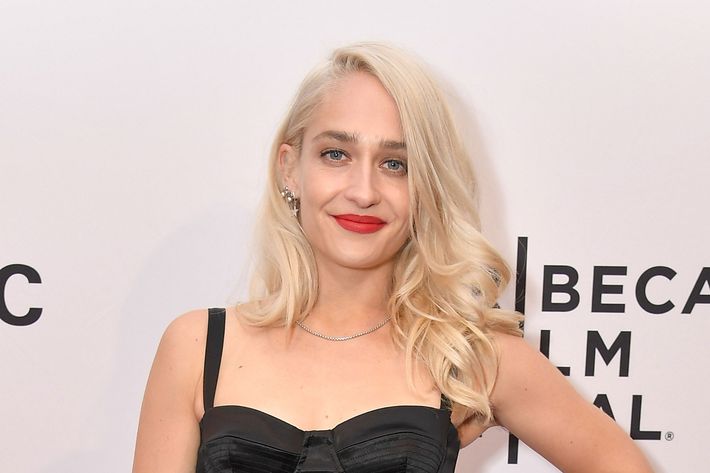 Finally, I'll leave you with this gorgeous image of Jessica Simpson arriving in New York on Sunday wearing a $3,000 Gucci sweater. I miss her, don't you?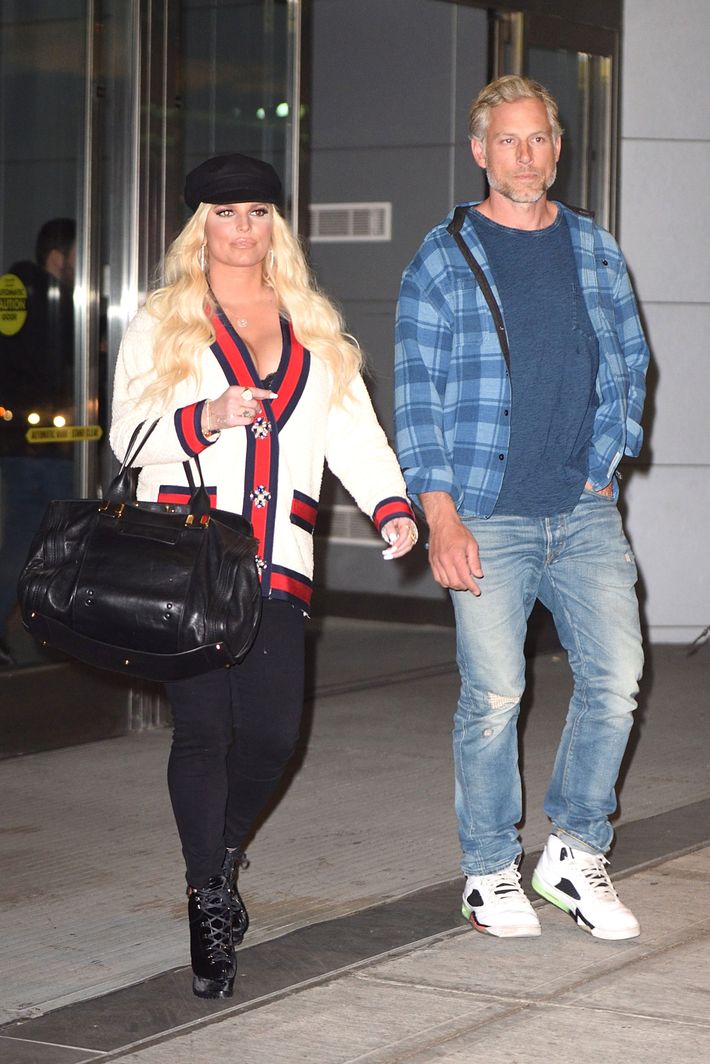 Thanks so much for gossiping this week. If you'd like to get this column in your inbox every week, subscribe in the box up top. And don't forget to email me at allie.jones@nymag.com, send me a message on Twitter, or contact me on Signal, if you'd like to chat.