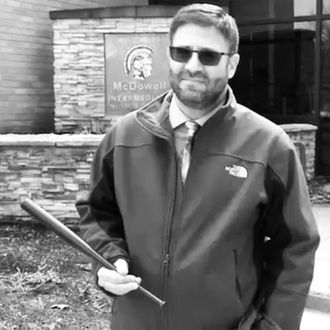 Millcreek Education Association president Jon Cacchione with a tiny bat.
Ever since the February school shooting in Parkland, Florida, there have been numerous suggestions and attempts to make students across America safer. The President has floated the idea of giving teachers bonuses if they carry firearms in the classroom. Stoneman Douglas students are now required to wear clear backpacks to school. And one Pennsylvania school district has equipped every classroom with a five-gallon bucket of "river stones" for students to throw at an intruder who could potentially be armed with a weapon capable of targeting over 500 people in ten minutes. (Hint: the actual correct solution to this problem rhymes with shun shuntrol.)
Now, another school district in Pennsylvania has unveiled a revolutionary new plan to stop shooters: teeny-tiny souvenir-sized baseball bats for teachers. (Side note: Pennsylvania, are you doing okay?)
Erie News Now reports that all 500 teachers in the Millcreek School District received a 16-inch bat, which will be locked up in their classrooms. Superintendent William Hall says the wee little bats are both "symbolic" but also meant to help, just in case.
"We passed them out, with the goal being we wanted every room to have one of these," Hall said, of the li'l mini baby bats. "Unfortunately, we're in a day and age where one might need to use them to protect ourselves and our kids."