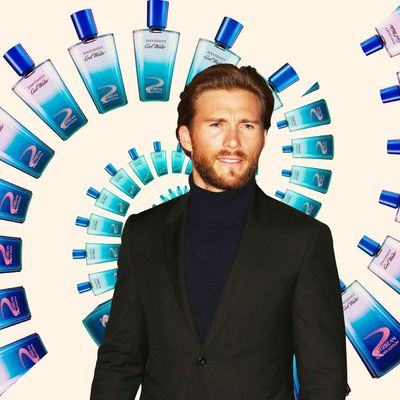 Scott Eastwood.
Photo-Illustration: Stevie Remsberg/Getty Images
Call it the Proust effect: Memories are best triggered by smells. Scientific studies confirm that out of all the senses, smells and fragrance evoke the best recall. Our new feature, Scent Memories, will ask its subjects to talk about the scents they associate with different emotions and thoughts. Next up is Scott Eastwood, who is the face for Davidoff, which is celebrating the launch of the new cologne Davidoff Cool Water Caribbean Summer Edition. It combines citrus-y notes of mandarin, lemon, and grapefruit with more masculine sandalwood, basil, and sage. The last time the Cut spoke with Eastwood about Davidoff, we learned about his love for the ocean and conservation efforts. This time, we learned about his love/hate relationship with Cap'n Crunch and disdain for Walk of Shames.
My first scent memory: The beach, just salt air.
The smell I associate with love: Like the smell of a pillow.
Happiness smells like: Breakfast cereal, I like Cap'n Crunch. Great cereal, except it ruins the roof of your mouth, which sucks. It's very masochistic to eat but I know how good it tastes so I just push through it.
Loss or heartbreak smells like: Flowers at funerals. But, it's also a time to celebrate someone's life. Death can be looked at in multiple different ways.
Regret smells like: Oh man, is there a scent for the walk of shame? Whatever that is, is the regret scent.
Sunday morning smells like: Lots of bed action, and delivery food. When I think of delivery, I think of Chinese food.
Monday morning smells like: Coffee.
Friendship smells like: The wilderness and the outdoors. I do a lot of outdoor activities with friends — backpacking, hiking, fishing, stuff like that.
The new fragrance smells like: Clean out of the shower, fresh.
A pleasant surprise smells like: A crazy, crazy candle, it's like mango or something instead of just vanilla. You're like, Woah, that's a surprise. 
If you could have one smell on your hands forever, what would it be and why? Vanilla almond, I've always been attracted to almond and vanilla that is sort of fresh and soothing.
I smell like: Man sweat. Just constant man sweat, probably.
If you buy something through our links, New York may earn an affiliate commission.