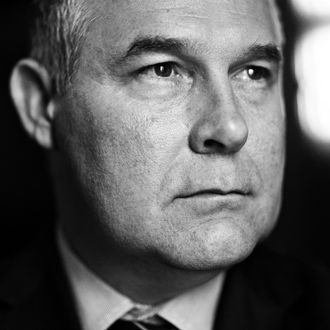 Tfw you upgraded to leather interiors.
Photo: Andrew Harrer/Bloomberg via Getty Images
Environmental Protection Agency Administrator Scott Pruitt — he of the nearly $60,000 custom phone booth — also swapped his official car for a larger and more high-end model, the Washington Post reports.
While his predecessors used a Chevrolet Tahoe, Pruitt's opted for a Suburban that features upgrades like a leather interior, WiFi, and bullet-resistant seat covers. The lease costs $10,200 a year (or approximately 1/6 of a fancy phone booth). But perhaps the most telling part of this is the reported motivation for the upgrade:
One former EPA official, who spoke on the condition of anonymity out of fear of retaliation, said that Pruitt remarked that he wanted the larger car because it was similar to ones in which some other Cabinet officials rode. 
Speaking of his peers, other egregious spending by the Trump administration includes Ryan Zinke's $139,000 door and Ben Carson's $31,000 dining set.