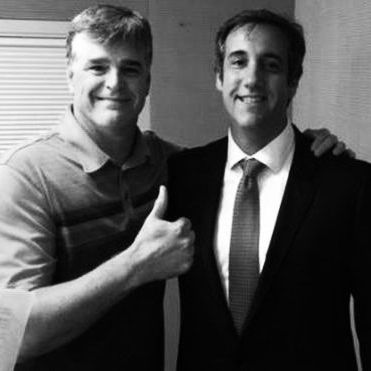 Buds.
Photo: SeanHannity/Twitter
On Monday, we learned that Sean Hannity — Fox News anchor, Keurig nemesis, and vocal Trump supporter — was the third "mystery client" of Donald Trump's personal lawyer, Michael Cohen, and people laughed and laughed. (But laughed in that kind of sad, resigned way we all laugh now, because everything is chaos, nothing is actually funny, and it feels like the world is going to collapse in on itself at any moment. Ha ha!) Nobody thought it was funnier than the hosts of late night.
Some background for the blissful few of you who may have forgotten or missed it: Cohen is the personal lawyer to President Trump, and the man who paid adult-film star Stormy Daniels $130,000 in exchange for her silence about her alleged affair with Trump in 2006. He also reportedly facilitated a payment of $1.6 million to a former Playboy model last year so she would keep quiet about her affair with his second client, former deputy finance chairman of the RNC Elliott Broidy. Last week, he had his home and offices raided by the FBI, and is reportedly being investigated for wire fraud, and campaign finance violations.
While it's unclear what work Cohen did for Hannity (on Twitter, the Fox News host denied that Cohen ever formally represented him), TV hosts nonetheless seized on the news. Here are some of their best takes:
The Rachel Maddow Show
"I still am struggling not to laugh. This has been a very weird day in the news," Rachel Maddow said Monday night on her MSNBC show. She went on:
"One of the anchors at the major pro-Trump news network has had an undisclosed relationship with the president's lawyer all this time, while Fox has not told that to its audience and while Mr. Hannity and Mr. Cohen have apparently spent considerable effort trying to keep that relationship secret. What? That's just lurid."
The Late Show With Stephen Colbert
Perhaps no one was more, uh, excited about the news than The Late Show's Stephen Colbert who, after playing the clip of a CNN anchor announcing Hannity was Cohen's third client, lounged in a chair, sipping red wine, and stroking his chest.
"Jon Stewart — after the show, I'm gonna come over, and we're just gonna spoon," he said.
"We may never know, but it doesn't matter what Cohen was doing for (Hannity)," Colbert continued. "What does matter is that Sean Hannity is out there every day, every night defending Trump and Michael Cohen. What else haven't you been telling us? That you share a barber with the LEGO man?"
Jimmy Kimmel Live!
There's no love lost between Kimmel and Hannity. The two were engaged in a brief Twitter feud earlier this year, during which Hannity referred to Kimmel as an "ass clown." On Monday night, Kimmel joked about his "pal" and his involvement with Cohen, saying "If this is the biggest witch hunt in history — as they say it is — we're running out of spots on the broomstick."
The Daily Show With Trevor Noah
"You know right now Sean Hannity's probably on the phone with his wife like, 'Hey honey, it's so weird how I used the guy who pays off mistresses to get me out of that parking ticket. Ha ha. It's funny right? Hello?'" Noah joked during his Monday night broadcast, before criticizing Hannity for failing to disclose his relationship with Cohen while he covered him.
"Even Instagram models have higher ethical standards," Noah said. "Because, they'll be like, 'Drink tummy tea! By the way, I'm sponsored by tummy tea.' "
AC 360
Even the non-comedians couldn't resist taking a few jabs at Hannity. On CNN, host Anderson Cooper noted, "So it would seem the president and Sean Hannity share more than dinners and frequent phone calls and a mutual love of Fox News programming…"
"Not disclosing a business or legal relationship with someone you report on and have had on as your guest at least 16 times since Donald Trump declared his presidency, that doesn't sound either fair nor balanced," he concluded.
Hannity
As if being named as one of Michael Cohen's clients isn't embarrassing enough, Hannity also got slammed during his own Fox News show on Monday night.
"Sean, I do wanna say that I think you really should have disclosed your relationship with Cohen when you talked about him on this show," said academic and celebrity lawyer Alan Dershowitz. "You could have said just, 'I asked him for advice,' or whatever. But I think it would have been much, much better had you disclosed that relationship."
"If you understand the nature of this, professor," Hannity interjected, "it was minimal."
"I understand. And you should have said that," Dershowitz replied.
What a time to be alive. Ha ha.