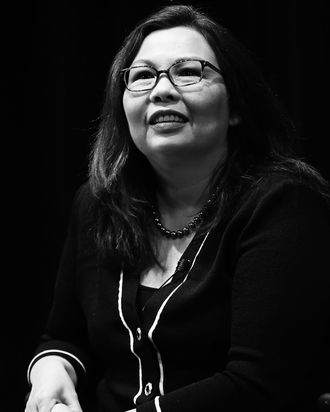 Senator Tammy Duckworth, Democrat of Illinois.
Photo: Scott Olson/Getty Images
Before Tammy Duckworth became the first sitting U.S. senator to give birth while in office last week, she was already speaking out against the long-standing ban against bringing children onto the Senate floor during its voting period. Yesterday, the Illinois Democrat proposed a resolution to lift this ban, and on Wednesday evening, the Senate approved it unanimously.
Following the vote, Senator Dick Durbin, Democrat of Illinois, addressed the "tiny, little message to the Senate" that was Duckworth's daughter, Miley Pearl.
"Just moments ago, we made the decision to allow Miley to help us make Senate history," Durbin said. "Tonight, we change the standing rules so that Senator Duckworth and any other senator who's a parent of an infant, could bring their child to the floor of the Senate during a vote."
In a statement reported by AP News, Duckworth thanked her fellow senators for "helping bring the Senate into the 21st century by recognizing that sometimes new parents also have responsibilities at work." The new policy will also apply to both adopted and foster children.
While the resolution passed unanimously, Senator Amy Klobuchar, Democrat of Minnesota, told AP News that both parties did require some convincing "for weeks." At one point, Senator Orrin Hatch, Republican of Utah, reportedly asked, "But what if there are ten babies on the floor of the Senate?" Others were worried that babies could disrupt "Senate decorum."
But most senators, Klobuchar included, found these concerns to be foolish.
"We could only wish we had ten babies on the floor," she said. "That would be a delight."