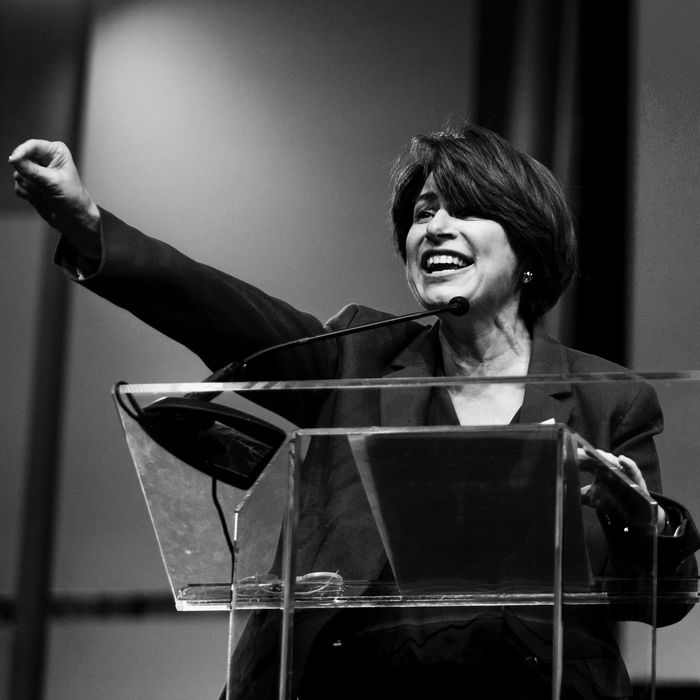 Senator Amy Klobuchar.
Photo: Anthony Lanzilote/Bloomberg via Getty Images
Senator Amy Klobuchar of Minnesota has, once again, made the most compelling case for staying in touch with all your exes: If you remain friends, you can guilt them into donating to your future political campaigns.
At a TimesTalks forum this weekend, Klobuchar sat down with three other female senators — Susan Collins, Republican of Maine; Joni Ernst, Republican of Iowa; and Heidi Heitkamp, Democrat of North Dakota — to discuss women in politics, and the various obstacles they face. When the conversation turned to women's struggle to raise money when running for office, Klobuchar referenced her 2006 Senate run in Minnesota, which she financed in a creative way, Elle reports: by making her exes donate.
"I raised $17,000 from ex-boyfriends," she said.
This isn't the first time Klobuchar has publicly spoken about this inspiring number — she joked about it at the 2009 Washington Press Club Foundation's dinner, and again in a HuffPost Live conversation in 2015 — but it's a statistic worth repeating, especially given the record-breaking number of women who are running for office this year. Just a tactic to keep in mind!