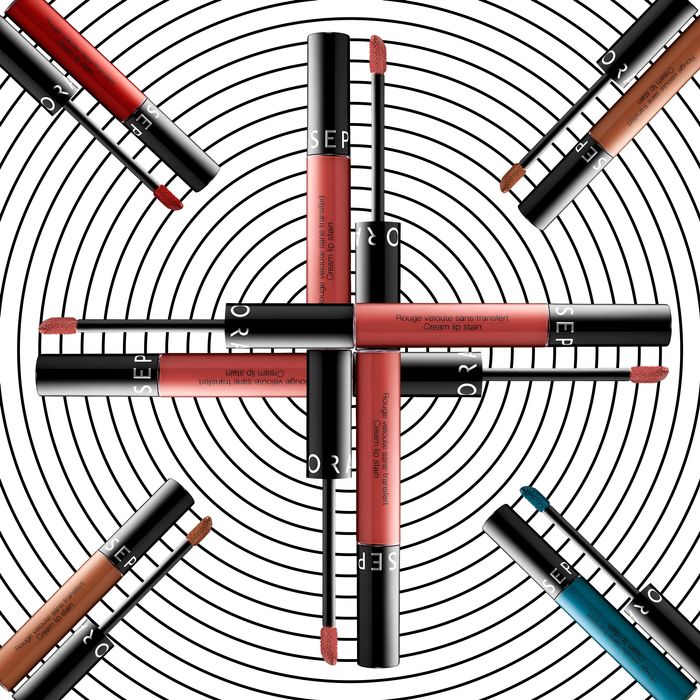 Sephora knows more is more, so the massive beauty retailer expanded its Cream Lip Stain Liquid Lipstick with 58 new shades. The liquid lip is one of the better ones on the market with its creamy texture that doesn't make your lips feel dry and look flaky, and comes in matte, satin, and metallic finishes. All of the new shades launched yesterday, so when you click over to Sephora's website, there are 90 glorious color swatches to spend hours over.
Deciding which of the new shades are the absolute best is subjective, but there are a few colors that immediately grabbed our attention.
It goes without saying the metallic shades are standouts, but the Stone Blue is a comparatively understated way to try the colored lipstick trend. It's an ocean blue with a cool gray undertone, which makes it wearable and not as shocking during the daytime. And there are a few deep red shades that range from chili red to brick red. Aside from the more festive shades, Sephora released nearly 20 new nudes, and while most of them skew lighter, there are a few deeper ones, like Cedar Wood (cool medium brown) and Honeymoon (a muted mauve).
Typically, Sephora Collection is more affordable than other brands Sephora carries, and these lipsticks are no different. At $18, they're nearly half the price of many other liquid lipsticks. Plus with Sephora's Beauty Insider promotion this weekend, it makes it even more tempting to test drive a few shades. After all, it would be irresponsible not to buy them during the sale and then to pay full price later, right?
The 58 new lipstick shades are available now at Sephora.
If you buy something through our links, New York may earn an affiliate commission.