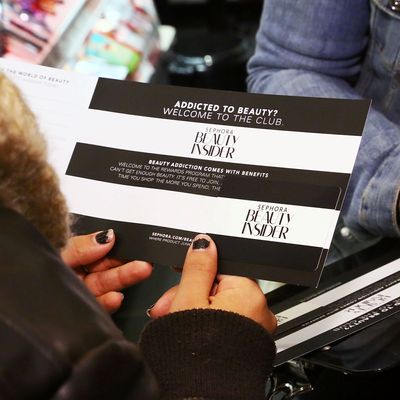 Photo: Astrid Stawiarz/Getty Images for Sephora
Today marks the final day of Sephora's annual Beauty Insider sale — the period of time just before the weather turns warm, when buying all of the things you want to put on your face is slightly less wildly irresponsible than usual. Per the terms of the sale, "Rouge" and "VIB" members earn 15 percent off storewide; "Insiders" get 10 percent. It's a time to rejoice and be glad — for some.
But for others, for those who have logged into their Sephora account for the sale only to find they are no longer a VIB and now hold the status of a mere "Insider" — as if they are just some stranger coming in off of the street and not a dear friend of Sephora (!) — it's a time to wonder: Once you've achieved VIB status, shouldn't it last until death?
To achieve VIB status, one must spend $350 at Sephora in a calendar year. (To achieve Rouge status, one must spend $1000.) The perks you get on top of those you get with Insider status, which has no spending requirement and asks for the sacrifice of only one email address, are minimal: additional monthly gifts and one free makeover at a Sephora store. What you gain when reaching the level of VIB is, mainly, a combination of status and shame. You, like your VIB friends, have spent a small fortune at Sephora. It's nice to feel like you belong somewhere — like you're part of a family (!) — plus you get that extra 5 percent off during the annual sale.
As of now, one must spend $350 each year to maintain their VIB status. Okay. In theory, I understand this rule. Sephora wants you to spend at least $350 at Sephora every year because Sephora is a store and it needs you to give it money. Fine. In practice, however, taking away one's VIB status after one worked so hard to achieve it — spending at least $350 at Sephora in a calendar year (!) — leaves a customer feeling abandoned. Jettisoned, trashed, thrown out like some shitty old blush that you never even liked but still wore a few times because you spent $30 on it. It's very rude, and I believe it should change.
Once a Sephora customer reaches VIB level, that Sephora customer should maintain VIB level until death. It's a simple plea, and a reasonable one. It should be treated like earning a degree. I would not go as far as to say VIB status should pass on to your next of kin (NOK), of course; I'm not a madman. If your NOK has learned anything from your life, I would hope that it is the value of spending at least $350 at Sephora during one calendar year so that they might enjoy their own VIB status until their own deaths. I'm simply asking for a common-sense update to an unreasonable rule.
Transitory VIB membership: a thing of the past? We can only hope.
The uninitiated may wonder what "VIB" stands for. Well, it's controversial. (To me.) Sephora will tell you "VIB" stands for "Very Important Beauty Insider," but one with even a child's level of insight into letters could tell you that if Sephora wanted the title of their member level to stand for "Very Important Beauty Insider" they would have called it "VIBI." I don't know what "VIB" stands for — Very Important Birth? Very Important Beyoncé? Very Important Bitch?! — but it's not Very Important Beauty Insider.