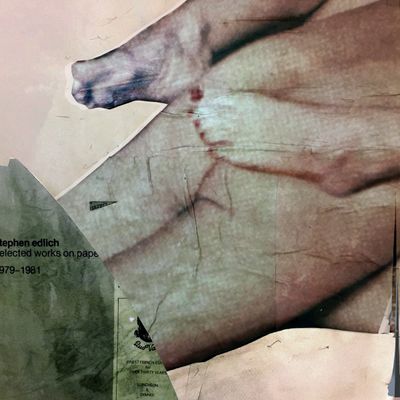 Illustration: James Gallagher
Get Sex Diaries every week.
New York's Sex Diaries series asks anonymous city dwellers to record a week in their sex lives — with comic, tragic, often sexy, and always revealing results. This week, ​a woman who works in advertising and hopes to find love: 22, straight, single, ​East Williamsburg.
DAY ONE
7:30 a.m. My alarm goes off but I'm already up — I always wake up a few minutes beforehand. I check the weather and reply to some texts and Tinder messages. I'm trying to get some dates lined up this week; I've been trying to actively date and just meet people lately. Plus, I haven't had sex in like three months so I've been extremely sexually frustrated. I need sex!
9:15 a.m. Bagel Monday at work! I work at an ad agency as an assistant. I'm a plain-bagel kind of girl, but I try to experiment today and get the sesame bagel.
5:30 p.m. A client launched a spot today, so we all gather in a room with way too much Champagne. We wait for it to air on TV and I'm feeling so excited for the people involved in the project. They're so happy! I can't wait to work on something I'm really proud of someday.
6 p.m. Two glasses of Champagne later and I'm way tipsier than I should be on a Monday. My co-worker tells me about how she and her boyfriend drew each other nude for a project at Brooklyn Art Library. So romantic! I've always wanted to have a cute boy so we can draw each other.
7:30 p.m. I make it home and all I want to do is watch Sex and the City. I finally started watching it! It makes me miss some friends from when I was in school. We'd gather at the patio of our favorite coffee shop and talk about portfolio class and sex.
7:45 p.m. I cook dinner and lunch for tomorrow, then my roommates and I open up a bottle of wine. One of my roommates (and best friend) and I switch phones and swipe for each other on Tinder for like an hour. He's gay and into bears and he knows what I like as well, so it's fun to swipe for each other. I always find myself attracted to other creative types and have noticed a recurring pattern in the guys I talk to (filmmakers, artists, writers, etc.).
Midnight I'm finally in bed and sleepy, but also horny. I have a high sex drive and masturbate almost daily. Nothing compares to the orgasms I give myself.
12:15 a.m. Trying to fall asleep and I can hear my other roommate have sex with a new girl he brought home. He has so much sex with so many different kinds of people, multiple times a week. He'll probably tell me all about it tomorrow. I'm sure he's slept with literally hundreds of girls.
DAY TWO
7:45 a.m. IT'S SNOWING. There is so much snow outside. Just want to stay in bed. The snow is beautiful, but I can't believe it's April and it's still snowing. Perfect cuddling weather.
8 p.m. Exhausted from work. I get home and eat cereal for dinner (it's one of those days). I watch a couple of episodes of SATC before I head to the gym. My roommate tells me all about the crazy sex he had last night. The girl squirted all over his sheets, he says, and the sex was amazing. Good for him, must be nice!
10:30 p.m. Leaving the gym and I get a Tinder message from a boy with a thick beard. It says, "Can I eat your ass sometime?" This is the most direct Tinder message I've ever gotten. I play along and ask him if he loves eating pussy as well. He says he loves giving more than receiving. He travels for work, so maybe I'll see him next week when he's around.
Midnight In bed. I don't watch porn very often, but sometimes I'm in the mood. Amateur porn is one of my faves. If I was in a committed relationship, it'd definitely be fun to film amateur videos together. I play one, masturbate, come, then fall asleep.
DAY THREE
7 a.m. I'm meeting with a recruiter today to have an informational interview for a place I'm really interested in. I also have a date later tonight, so I decide to look kind of cute. I don't have time to shave my legs or anything, but whatever, it's not that bad yet. I spray some Chanel perfume on my neck and wrists.
10 a.m. Interview went super well! They aren't hiring, but the recruiter and I hit it off and she wants to keep talking to me. I'm in love with this place so I'm hoping it works out in the next few months.
8 p.m. I meet my date at a restaurant and I'm already liking him. He's got beautiful eyes, and he's so easy to talk to. His hair looks soft and I want to run my hands through it so bad. We get drinks and some appetizers.
10 p.m. We go to another place nearby for more drinks. We're a lot flirtier now.
I've been going on a lot of dates lately and not a single one of them has resulted in sex. Not even a KISS. I sometimes worry that maybe it's me? Am I not being forward enough? But I feel that energy tonight and can sense something is going to happen tonight.
11:15 p.m. We make a stop at another bar but as soon as we go in, we look at each other and he grabs me and kisses me. As soon as he does that, we can't keep our hands off each other. He puts his hand under my shirt. I'm extremely turned on at this point and I bite his ear and tell him, "I want to fuck." After only a few minutes of being there, we leave and call a cab to go to his place.
11:30 p.m. We're in the back seat of the cab, making out, hands everywhere, lots of hair pulling, lots of neck kisses, and then he unzips my pants and starts fingering me. I start moaning, not really caring that the taxi driver is there.
11:45 p.m. We get to his apartment. He lives in a studio in the East Village, which is nice because there's no roommates to worry about. He's got mid-century-inspired furniture, so I'm loving his taste. We immediately take our clothes off. He dims the lights, turns on some music, and we start making out again. I forget how much I love being naked with a guy. He kisses my neck and starts lightly biting my nipples. I lie on my back and he swings my legs over his shoulders and goes in. Ugh, my favorite.
2:30 a.m. We have sex multiple times. I needed this so bad.We kiss some more and joke around about our night and I tell him I have to leave. It's so late and I have work in a few hours. I put my clothes back on, order my Lyft, and leave.
3 a.m. I am going to be so, so sleepy when I wake up. Ugh.
DAY FOUR
7:45 a.m. I'm feeling pretty hungover and exhausted. Not a good combo.
12:30 p.m. The guy from last night and I chat briefly, but I'm not expecting anything from it — I'm not interested in him for anything long-term. It was a fun night, though.
6 p.m. I get home. I've been waiting for this moment all day! I'm starving and make some sweet-potato fries and two over-hard eggs. I curl up on the couch and watch some Sex and the City, of course.
9 p.m. Finally showering. We have beautiful purple mood lighting in our shower and it makes showering such a peaceful and sensual experience. I think about shower sex and how I haven't had it in months.
10:30 p.m. Going to bed early today. I'm so tired and can barely keep my eyes open, so I fall asleep quickly.
DAY FIVE
7:45 a.m. Thank goodness for Fridays. It should be a pretty chill day at work, but still, I can't wait to be done.
5:30 p.m. My co-worker and I are headed to a new 1970s-themed bar in Chelsea that just opened up two days ago. Her best friend (who is kind of interested in me) is also joining us.
8 p.m. It's amazing here! The furniture is incredible, and the waiters are nice. Her friend was running late but finally arrived. We order two little pizzas, and they're really good. Her friend invites us out, but I'm tired and want to head home. My co-worker is also headed home, so we tell him another time would be best.
9:30 p.m. I'm in bed journaling when her friend texts me. He asks me to come out with him tomorrow, but I tell him I already have plans. He's really nice, but I only want to be friends with him. I hung out with him one-on-one a couple of weeks ago, and even though he's a great guy, I don't feel any sort of romantic or sexual attraction.
DAY SIX
9:30 a.m. I actually let myself sleep in today. I decide to masturbate in the morning (something I don't do very often) and it's incredible. I love how in the morning you're a little groggy and your body is lethargic and sensitive — that's why lazy morning sex is the best thing ever. I lie in bed post-orgasm for a few minutes and then get up and make breakfast. Eggs, home fries, and tea.
11 a.m. Meeting my friends for coffee and to explore Greenpoint a little more. We had plans to check out an art exhibition but it's packed, so we decide to shop around at some vintage shops.
4 p.m. I really like spending the weekends exploring the city with my friends. There's so many happy couples out today … I wonder if I'll ever find love here.
6:30 p.m. My roommate and I check out a taco place near our apartment, talk about boys, and plan my upcoming birthday party. We head back home and decide to have a lazy afternoon consisting of trying to set up dates for next week, watching TV, planning our next apartment-related purchases (we recently moved in), and listening to Kali Uchis's new album.
10:30 p.m. To go out or not to go out? We decide against it. Sometimes you just need a peaceful night to yourself.
DAY SEVEN
11 a.m. Another beautiful day of sleeping in. I make blueberry pancakes, go grocery shopping, and then get ready to go to the gym.
1:30 p.m. There's an incredibly beautiful man at the gym. My roommate and I both stare at him while doing our butt workouts. I start fantasizing mid-workout …
6 p.m. A cute boy I went on a date with a couple of weeks ago texts me. I had forgotten all about him, but I want to hang out with him again. He's sweet and leaving in a couple of months, so maybe we can have a short fling before he leaves in the summer. I suggest we hang out next weekend. He lives in Harlem (so far from me!) and wants to explore more of Brooklyn, so I tell him I'll show him around.
7 p.m. Dinner plans with a few of our friends. We're trying out a new pasta place in the East Village because my favorite pasta place in Chelsea closed down. We catch up and one of my friends tells us he got his first tattoo with a girl on their first date. I can't even imagine doing that, but if it works out for them in the long run, it's going to be such a cute story.
10: 30 p.m. In bed with a pasta food baby. I text a guy from a couple of weeks ago. He's a photographer and just got back from traveling for a shoot, so we catch up for a bit. We decide to finally meet up and set a day for next week. Dating is sometimes so exhausting and most of the time results in nothing, but I need to remember that I'm only 22 and so new to this. For now, I'm going to continue enjoying it.
Get Sex Diaries every week.
Want to submit a sex diary? Email sexdiaries@nymag.com and tell us a little about yourself.