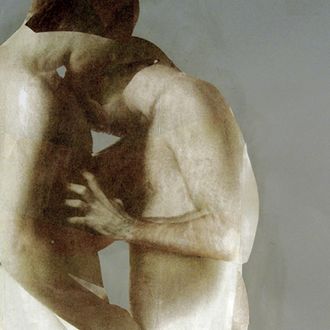 Photo-Illustration: James Gallagher
Get Sex Diaries delivered weekly.
New York's Sex Diaries series asks anonymous city dwellers to record a week in their sex lives — with comic, tragic, often sexy, and always revealing results. This week, a financial professional who wonders about his libido: 32, Clinton Hill, bisexual.
DAY ONE
6:20 a.m. Wake up and have a date with S. Really do not want to shave, but I do, since I should look nice. I don't have much experience actually dating (as opposed to hooking up) … I am so tired of doing things by myself. I want a companion!
8:30 a.m. It's Friday and only my second day in the office this week. I'm over it already. I am in financial services and my job treats me well. I really can't complain too much — if this wasn't my career, I'd still have been interested in it as a hobby.
10:15 a.m. Get a text that a friend who is my age died last night, of a heart attack! I'm 32! WTF! This throws my entire mood off. Life is a bitch.
1:50 p.m. Still bummed out but now filled with lunch. I want an escape so I look up vacation locations online instead of doing my work. It's my dream to find someone who loves to travel as much as I do and would want to explore the world together.
4 p.m. Still procrastinating and work is slow today. A few recruiters have reached out to me on LinkedIn so I innocently look at potential jobs. The audacity of looking for jobs while at your current job! But here I am.
6:20 p.m. S is 20 minutes late and says there is traffic. I might be getting ghosted here. I take this opportunity to respond to W's text about when he can call me. (We'll come back to W later.)
6:25 p.m. Not ghosted. Relief! He looks just like his pictures on Tinder, which is good, since most people definitely look worse. We're having drinks at a bar in Chelsea. I'm leading most of the conversation, and it's actually going okay.
9 p.m. S is shy but cute. We decide to move on to Astoria for more drinks and pool.
11 p.m. Pretty much the second we walk into S's place, the clothes start to come off. We don't have anal sex, but it's a good hookup. He wants to sit on my penis, but — and this is no exaggeration — at least 60 percent of the times I've banged dudes they've pooped on my penis. Not in a rush anymore, especially on first dates with people I don't know. I need serious confirmation that the douching has happened.
S really wants me to come; I just can't at the moment. We fall asleep in each other's arms. It's cute. I need this type of intimacy in my life.
DAY TWO
645 a.m. I didn't sleep — I'm always uncomfortable in a stranger's bed. We start to finish off what we started last night: He gives me a hand-job and really wants to get me off. When I start to come, he takes me in his mouth.
7:30 a.m. Walk of Shame to my Uber.
7:50 a.m. Home and exhausted. S snored like a freight train all night. I've never been a fan of penetrative sex, even with women. I didn't start masturbating until I was 17, and I lost my virginity at 26. I'm not sure if my sex drive is low, or I've only had bad sex, but I am perfectly content with kissing, oral, and just general intimacy. That's not most people, though. Sometimes I'm convinced I'll die alone.
12:30 p.m. I text S to let him know I had a good time. A now-good friend who I dated a few years ago once told me he knew it wasn't going to work out between us when I didn't communicate after our first hookup. I've been trying to learn from experiences like that one.
1:30 p.m. My mother comes over. Surprisingly, she doesn't bring up my love life. I came out to her exactly two weeks ago today. It did not go well.
I identify as bisexual, but I really tend to lean toward men. It's just easier and more affordable to go on dates with men. I have my Bumble set to men and women; my Tinder is strictly men.
When I came out to my mom, she said I was sinning, betraying God, and that I would get AIDS if I continue doing this "thing" with men. Thanks, Mom! I really think she already knew and that this was her last salvo to make her feel better/hope it wasn't true. But she loves me dearly and I know she'll accept it if I end up in a relationship with a man one day. For all intents and purposes my mother is a Jesus freak. She's had some difficult times (mainly with men and relationships) and I think finding God has really helped her cope with her troubles. The conversation with her went exactly as I expected. I knew she would bring up God as much as she could to try to convince me I am doing something wrong.
7 p.m. Bored as hell after my mom leaves and I have no one to talk to. I consider going to see Black Panther, but it's sold out.
DAY THREE
11:15 a.m. W calls me, as arranged two days ago. I fell hard for W a while back. When we first met I finally had hope that there might be someone right for me. He's funny, smart, career-oriented — we just seemed meant for each other. We were dating for about seven weeks before his contact with me suddenly got short and nasty and then finally … he ghosted me. Like straight-up disappeared.
At that point, I was directing all my efforts toward him only. I was badly hurt when he just disappeared, so I called him out on it about three weeks ago via email … which is what he's responding to now. My feeling is that it's fine if you're not interested, but give me the courtesy of telling me what happened.
We chat like old buds. He doesn't bring up my concerns and acts like nothing happened. Okay: He is canceled. Lesson learned — don't act like you're in a relationship when you are not.
12:30 p.m. Time for Black Panther.
2:45 p.m. WAKANDA FOREVER!!!
3:15 p.m. Hit the gym. I haven't been in two weeks and feel fat. They say girls are placed under intense beauty pressure by society but let me tell you, this idea of beauty standards is very prevalent in the gay community. Gay men are savage when it comes to looks and aesthetics.
5:50 p.m. Back home from the gym and there's really nothing to do. I generally enjoy living alone but the major downside to not having roommates is not having easy access to people to talk to. I really need some neighborhood friends. How does one even make friends as an adult? I'm 32 and my last real relationship was at 17 with a girl. That lasted maybe four months. I think my lack of desire for sex for the most part has held me back when it comes to relationships. At one point I thought I was asexual.
DAY FOUR
7:10 a.m. Finally roll out of bed … I'm late for work.
1:45 p.m. Headed out to lunch and run into a co-worker in the elevator. He's what the gays would call a "daddy." He's older, fairly fit. One time I was in his office and saw he has a tramp-stamp tattoo. I have a thing for daddies, to be honest. My job has a handful of sexy older folk. I get a small erection talking to him.
I'm not out at work, and I don't think I ever will be. I try to keep my personal life private. Maybe if I get a boyfriend I will let my co-workers know.
7:20 p.m. Home from an amazing gym session and text K to confirm our date for tomorrow. K is another match from Tinder. He says he's headed to a movie and will text me later. No biggie.
8:20 p.m. I text S just to say hi and we chat for a bit. Just like during our date, I keep having to carry most of the conversation. But there is something about him that I like …
10:30 p.m. I think I am horny so I find some gay porn and masturbate. It's not my best session.
DAY FIVE
6:45 a.m. K texted me last night while I was asleep. He is canceling our date tonight because he had a discussion last night with someone else he's been on a few dates with and they have decided to be exclusive.
9 a.m. Still thinking about K's text. We matched on Tinder and have never actually met, so it's not a huge deal. I even sent a genuine congratulations text but it does have me pondering. If you were THAT CLOSE to being in a relationship, why even entertain me? This is the stuff we deal with in modern dating, complicated even more by the same-sex situation. Lesson — always assume your date is involved with other people.
11:40 a.m. Text B to confirm our meet-up tomorrow.  He is my third planned date this week. We met a few weeks ago while out dancing and the sexual chemistry on the dance floor was insane. His responses are … different.
3:20 p.m. Yup, he's being flaky. Now he's saying he'll "maybe" be free. It's not like we confirmed this just a few days ago. Whatever.
4:20 p.m. Guess who just got an end-of-year bonus and double-digit percentage salary increase? No title increase, but I'll take the pay raise. Drinks for me … on me!
8:15 p.m. Worked late so just getting home. This was the time I was supposed to meet K for our date. I hope he's happy with his new partner.
10 p.m. Another disappointing jerk-off session before bed.
DAY SIX
11 a.m. Funeral service for my friend. This death puts things into perspective. He was so young and it was a complete surprise and unexpected. It sort of reinforces my belief that I did the right thing in letting my mother know about my sexual preferences and motivates me to live my best life.
9 p.m. Haven't received a text from B. I didn't reach out either. There's no "too busy" in dating but there is "too busy for you." It's been two weeks and once that threshold is reached without a meetup, it's unlikely to happen. Lesson learned — people make time for those they are interested in.
9:30 p.m. S texts me first this time. This is good as it shows there is interest on his end as well. We had a good first date, but I'm not emotionally connected to him yet. He is off work all of next week and wants to see me again. We decide to come up with a plan over the weekend.
DAY SEVEN
3:35 a.m. Fell asleep on the couch … where I had a sex dream about one of my female friends I saw at the funeral. This is an unexpected turn of events. And inappropriate since it was at a funeral and she is married?
12 p.m. Thinking about the dream. What exactly is my subconscious telling me here? I decide to switch my Tinder profile to include women as well.
7:30 p.m. Fresh haircut and I look and feel like a million bucks. My confidence is always highest the first few days right after a haircut, so I'm feeling myself and like I might meet someone this weekend.
9:30 p.m. Horny and masturbate, but this time to heterosexual porn. It's an absolutely fantastic session, which is a change from what I have been experiencing recently. It feels great. Maybe my next date will be with a woman …
Get Sex Diaries delivered weekly.
Want to submit a sex diary? Email sexdiaries@nymag.com and tell us a little about yourself.