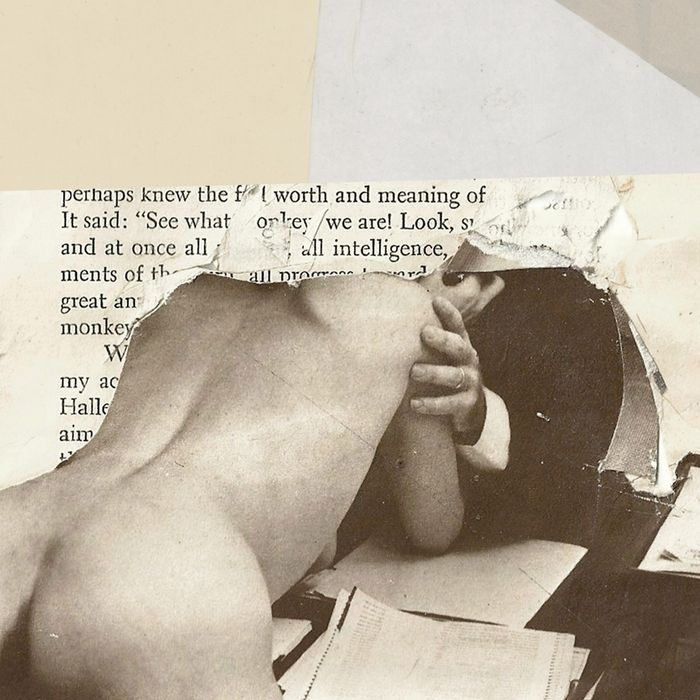 Illustration: James Gallagher
Get Sex Diaries delivered weekly.
New York's Sex Diaries series asks anonymous city dwellers to record a week in their sex lives — with comic, tragic, often sexy, and always revealing results. This week, a dating blogger worried she might lose her sex appeal: 39, straight, single, London.
DAY ONE
8:30 a.m. Don't need to get up early as I'm freelance and right now I'm between contracts, which is bad because it's quite stressful — but good because it gives me loads more time for dating. Dating has become a real priority for me, and it's something I invest serious time in. I feel lucky that the rest of my life is pretty sorted. All that's missing is someone lovely to share it all with … and I'm 39 now and feeling like time is running out to find someone before I lose my sex appeal.
10:30 a.m. I pop to the gym. I'm a glutton who loves to eat, so I exercise regularly to ensure I don't get fat. Gotta keep my figure trim if I want to find the One … who's really been taking his sweet time. I've been single for over three years, ever since my long-term partner ditched me in favor of a horsey chick from work. He packed up his stuff, and was out of my life entirely within two weeks. We're not in touch anymore, but I heard he proposed to her five months later and they're now married and living in Texas.
12 p.m. After a shower, I sit down to do some writing. Last year I started an anonymous dating blog chronicling my adventures as a single woman dating in London. In 2017 I went on 50 dates with 26 different guys, so I have plenty of material.
4 p.m. I've got a date lined up for tomorrow that is almost guaranteed to end in sex, so I head to my local salon to get waxed. I opt for a standard half leg and bikini line wax, as well as an eyebrow shape — all of which costs me £50. Being a woman is expensive!
8 p.m.  A quiet evening at home. I eat a ready-made meal, then spend the evening writing my blog and tidying my flat in preparation for my visitor tomorrow.
DAY TWO
8:30 a.m. My alarm goes off but I don't feel refreshed. I wake up without fail every morning around 4 a.m. and struggle to fall asleep again because my brain won't stop whirring.
10:30 a.m. Adam, my date, will be here after lunch, so I pop to the gym again — every little helps when you're about to get naked with someone!
Adam and I met online last year, and went on five dates. He was attractive and super keen but I didn't feel the same way, so I ended it. We stayed in touch as friends, though, texting occasionally. Then, a couple of weeks ago, I made a throwaway comment about not having had sex in ages and he boldly volunteered his services!  Since it's now clear this is just going to be a friends-with-benefits thing, I decided to accept.
1 p.m. Adam has texted to say he's on his way, and now I'm really nervous. It's been months since we last saw each other and I'm worried it's going to be really awkward — particularly since he's driving up from Southampton so I've already promised he can stay the night. I guess if it's terrible he can sleep in the spare room …
4 p.m. Adam arrives. I'm immediately struck again by how handsome he is. I open a bottle of wine and we settle on the sofa and start to relax. We get through the whole of the first bottle and go back to the kitchen for another before he so much as touches me, but in the kitchen he tells me he hasn't told his friends he's here — apparently, I'm his "dirty little secret." That seems to be my cue to kiss him.
5 p.m. We move through to the bedroom and now we can't keep our hands off each other. He's swiftly out of his clothes and — my God! — the man is an Adonis! There's just one problem, which is that nerves appear to have got the better of him, and he seems to be having a little performance anxiety. I coax him back to life with a blowjob and pretty soon he's raring to go.
The only downside is that he's grown a beard since I last saw him. I hate beards at the best of times, but after he goes down on me I discover another reason why I think they're gross.
7 p.m. Afterward, we kiss and cuddle for a while — and it's so lovely just lying here being naked with someone I like and trust. Eventually we get up and order takeaway, which never shows up, so I am forced to spontaneously rustle up some dinner from stuff I happen to have in the house.
10 p.m. Adam says he's not feeling well and wants to go to bed, so I put him in the spare room. I'm a bit disappointed as I was hoping for more sex, but I'm also worried I'm going to catch his cold.
DAY THREE
9 a.m. When I wake, I can hear Adam coughing next door, so I go and climb into bed with him for a  cuddle. His cold has come on properly now; sadly, it looks like I won't be getting any morning sex.
10 a.m. I feed Adam breakfast of scrambled eggs and smoked salmon on an English muffin, and then he gets back in his car and drives away. After he's gone I feel a little bereft, and I wonder if I'm doing that typical girl thing of developing feelings for a guy as soon as I've slept with him.
11 a.m. I've got a job interview, so I shower.
1 p.m. I arrive for my interview. It's for a short-term gig of just a few weeks that doesn't particularly interest me, but I've been out of work for a couple of months now so I'm keen to get back out there.
2 p.m. I've got some time to kill after the interview, so I decide to treat myself to late lunch in a fancy brasserie.  I don't like eating alone, but I feel that as a single Londoner this is something I should get better at. While I'm waiting for my food to arrive I spend some time on the Twitter account for my dating blog replying to messages.
3 p.m. Adam texts to thank me for a lovely evening and calls me "sweetheart." I feel a warm glow.
5 p.m. Back home, I check my emails. I've been chatting with this guy, Malcolm, for a bit and he seems intelligent and funny, although unfortunately he also has a beard. But I'm trying to be more open-minded, so I accept his invitation to have a drink tomorrow.
DAY FOUR
10 a.m. Check Malcolm's profile again so I can pick up some details as conversation topics. He is funny, and I start to feel more positive about the date.
5 p.m.  I get ready for my date. Malcolm says he's tall, so I can wear heels, which is nice.
6 p.m. I meet Malcolm in a fancy bar. He's wearing a tweed jacket and brogues — I can't decide if he's a hipster or just a dapper dresser. Even though he's tall and quite handsome, I immediately don't fancy him. This is going to be a two-drinks-max date.
6:30 p.m. This date is a total write-off. I'm amazed that someone who can be so funny on paper can have zero charisma in real life. Fortunately, I'm always prepared for this possibility, so I've booked in a work networking event and have a valid excuse for leaving early.
7 p.m. I'm entirely out of polite chitchat, so I tell Malcolm I need to go, even though my event isn't for another hour. I want to hang out in the bar and read my book until it's really time to leave, but Malcolm seems to think we're going to walk back to the tube station together. I'm forced to pretend I need the loo and tell him to go ahead without me, then I hide out in the ladies' until I'm sure he's gone.
8 p.m. I head to my networking event. I always hope that I might meet a cute guy at one of these things, but as always the other attendees are either women, or married.
10 p.m. I get a text from Bill, who I matched with on Bumble. We've agreed to meet for an afternoon drink tomorrow. Bill is ten years older than me and looks rather earnest in his photo — I'm not really feeling that bothered about him but still want to give him a chance. I suggest a pub near a tube station so I can make a quick exit if I need to.
DAY FIVE
9 a.m. I'm really keen to arrange another hookup with Adam, but he seems to have gone cold on me.
11 a.m. I head to a spin class. I have a crush on the instructor, who is super buff and went to Cambridge — brawn AND brains!
1 p.m. Adam still hasn't replied to my last message and it's been more than 24 hours. In a moment of weakness I text him again — it's just a cheery hello but as soon as I hit send I kick myself. God.
3 p.m. I head to Notting Hill to meet Bill from Bumble. He's waiting a bit grumpily outside the pub — apparently it was too noisy in there — and suggests going for a coffee instead. Within 30 seconds of meeting him it's clear we have zero chemistry.
3.15 p.m. We find a café round the corner and I order tea. Bill tells me all about how he's an "entrepreneur" and started his own software business, which he sold for squillions of quid. I know he's trying to present himself as a catch, but instead he just comes across as a self-satisfied, smug twat. I only pay attention to what he's saying in case some of it might be good material for my dating blog.
4 p.m. Mercifully, coffee is swiftly over. We have an awkward good-bye in the street.
8 p.m. I get a text from Josh, a teacher who I met on match.com. We had a first date last week, and it seemed to go well. There wasn't a kiss, as I don't usually kiss on the first date. But we have a second date tomorrow, so who knows?
DAY SIX
10 a.m. I wake up with a sore throat and a cough. Seems I've caught Adam's cold after all.
2 p.m. Josh the teacher lives outside of London, so he's coming down by train. I end up choosing a friendly pub, nothing too posh or expensive as I want Josh to be comfortable.
5 p.m. I get ready for my date: hair washed and blow-dried, makeup (but not too much), and because Josh is a casual guy, nothing too dressy — a black skirt and a cashmere jumper.
6 p.m.  Josh is already at the pub when I get there. He's even cuter than I remember: tall, slim, and toned, with salt-and-pepper hair and a cheeky smile, and wearing an adorable chunky knit sweater. He gives me a kiss on the cheek and I feel a definite spark of attraction.
9 p.m. Josh seems a little shy, but I think that's just part of his low-key personality; he's not brash and cocksure like so many London guys who act like they're God's gift. But conversation flows, he's funny and interesting, and I have a lovely time. Unfortunately he can't stay late as his dad is unwell and he needs to look after him, so after just three drinks we walk back to the tube station together.
9.15 p.m. We're going in different directions, so we say good-bye in the tube station. There's an awkward moment where I go for the cheek, and Josh starts to go for my mouth, and then redirects when he realizes that's not what I'm doing. So it ends up being a kiss on the cheek, and I'm gutted, and then I pull myself together and say "What was that?" and he says "Well, I was going to kiss you" and I say "Okay then" and so he does. And it's absolutely delicious.
10 p.m. It's only when I'm almost home that I remember my cold. It's entirely possible I have now passed Adam's lurgy onto Josh. Is that bad?
11 p.m. Josh texts: "Well that was lovely." It was, and I feel a little glimmer of hope.
DAY SEVEN
1 p.m. This afternoon my friend, who had IVF twins at the age of 40, is having a christening party.
2 p.m. There are no attractive single men at the party.
3 p.m. A couple of my guy friends arrive, and after getting tipsy on christening Prosecco the three of us decide to decamp to a nearby pub.
4 p.m. Conversation naturally turns to dating and I tell them about Josh and Adam. My married mate tries to get his head round the logistics of having a friend-with-benefits who lives two hours south of London.
8 p.m. On the way home, I finally get a reply from Adam. He's keen to see me again after all, and suggests another hookup next week. I'm thrilled: I can't wait to get my hands on that hot body a second time.
10 p.m. Josh texts and suggests a third date. So now I have a hookup and a date next week, and I like both guys. Are things about to get complicated?
Get Sex Diaries delivered weekly.
Want to submit a sex diary? Email sexdiaries@nymag.com and tell us a little about yourself.