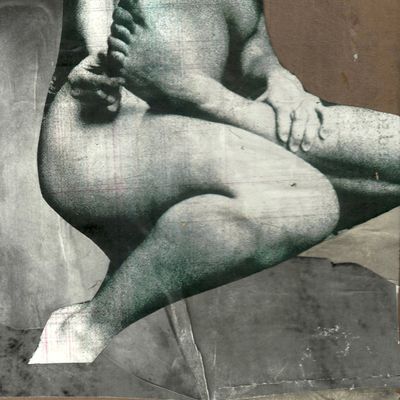 Photo-Illustration: James Gallagher
New York's Sex Diaries series asks anonymous city dwellers to record a week in their sex lives — with comic, tragic, often sexy, and always revealing results. This week, a woman who works at a law firm and as a webcam model: 39, straight, in a relationship, California​.
DAY ONE
5:20 a.m. My alarm for my day job goes off. I press snooze to sleep for another 40 minutes. My second "job" is as a webcam model.
It all started last year, when I was looking for a part-time job to help pay off my debt but couldn't find anything I was interested in doing and paid enough. I saw an ad on Craigslist for a "chat hostess" and replied. It was a female-run studio. I met up with the manager to go over the specifics, and she created a profile for me for the website. I was concerned because I didn't want anyone in my family and the majority of my friends to know what I was doing. But this company is very discreet — you can block up to five different states or countries. I was 39 when I started and didn't really have any mentors, just a little training. It's a lot of improv, since men are into various things. I worked out of a studio for a few months, then told them I needed more flexibility and decided to cam from home. I saved up money for a new laptop and webcam but still work for the company.
I guess I took the plunge because I have a lot of debt and figured camming is a good way to make easy money. Guys get off on some weird stuff. Some like to be humiliated, like SPH (small penis humiliation), some like it when I am a dom, and love when I torture them, some merely worship my ass, most love dirty talk, strip teases, and mutual masturbation. And of course the younger guys enjoy when I do the naughty stepmom roleplay. Whatever tickles your pickle!
6:11 a.m. I get my good-morning text from my boyfriend, Rick. He lives over 2,000 miles away and doesn't know I cam. We've been in a long-distance relationship for almost a year. We make it work, but it's been almost four months since I last saw him and I want to ravage him.
7:30 a.m. I get to work, and check out the news for a while. I work at a law office, so I'm also reviewing hundreds of pages of discovery before meeting up with a client. Like many women, I can multitask like a champ.
9:40 a.m. I message my sugar daddy. What? You think sugar daddies are only for 20-year-olds? Think again!
We "met" on my webcam site. He is 60 years old, lives in Florida, and is very wealthy. We have never met in person, but we agreed to do Skype camming because it means he saves money and I make more. He is not attractive at all. However, he is quite intelligent and enjoys my sarcastic, bitchy personality. He knows about Rick and is somewhat jealous, but he accepts my relationship as long as he can "worship" me. And by "worship," I mean "jerk off while looking at."
12:15 p.m. Sugar Daddy messages wanting me to leave work because he's impatient. I laugh when he calls me a "fucking whore tease" and tell him to be patient because he doesn't have a choice.
3:30 p.m. I head home for the day and procrastinate on taking care of errands.
8 p.m. I tell Sugar Daddy that tomorrow would be a better day for us to Skype. His response is whiny, but that's just too bad.
8:30 p.m. I watch Netflix and fall asleep to the movie 21.
DAY TWO
7 a.m. I stop at my beloved Dunkin' Donuts before heading into work. For whatever reason, I am ravenous and get a green tea and breakfast sandwich.
9:02 a.m. I start sexting Rick, saying I'm so horny for him. He tells me he can't wait for me to show him how horny I am. I see him in less than two weeks! I'm so damn horny!
I love being in a long-term committed relationship because I love consistency and security. Never had kids and don't want them, but I've been married and divorced twice and really don't believe in the institution of marriage anymore.
11:30 a.m. Lunch with co-workers at a pretty decent Mexican place. Sugar Daddy messages me to send him a naughty pic to "finish him" so I reach back into my archives of naughty pics and send him one. He's so needy.
I average about $40 an hour when I cam on the site, but my sugar daddy gives me $100 an hour and then sometimes spoils me in other ways. For example: He bought dinner for me and my best friend, which was over $100, and then gave me money for a pair of sandals I liked. Every model has their own rates, though — some charge $7.99 per minute, or up to $15 per minute. Those girls are nuts.
I charge $4.99 per minute for private and $5.99 per minute in exclusive. Private gets me out of "free chat," but multiple guys can enter my private room. Exclusive means a guy can take me away to a private, one-on-one chat no one else can enter. I keep my rates reasonable like this so I get more customers. But I only make 20 percent of my rate — the company takes their share and the studio still gets their 15 percent since they recruited me, so to speak.
12:53 p.m. Rick sends me a sexy BDSM pic of a hot couple. That instantly turns me on. Rick is a sadist in the bedroom and is ridiculously sexy. He's the only guy I have ever let control me in the sack.
4:45 p.m. I decide to cam and put on a sexy black lace teddy and black thigh-highs. Unfortunately, it's slow going. Just a few cam-to-cam sessions. Guys love it when I watch them jerk off for me. One guy has been edging all day and is excited to see that I'm on. He has me watch him jerk off, and then thanks me effusively for the session.
After about two hours, I stop camming. I have grocery shopping to do and laundry to put away.
8 p.m. I message Sugar Daddy to let him know I received my bundle of panties from Amazon. He tells me that he is turned on and hard. He wants me to wear them all day, masturbate wearing them, and then send them to him. Of course, I will be compensated — "spoiled," as he likes to say.
DAY THREE
4:57 a.m. Rick texts me good morning before my alarm goes off. Because it's him, I don't mind. Anyone else, I would have been pissed.
6:30 a.m. I choose a pink lace thong to wear before sending to Sugar Daddy, get dressed, and head to work.
4:45 p.m. Home now. I slip into a royal-blue negligee and start to cam. Sugar Daddy is upset I didn't contact him prior to camming, but I try never to succumb to his neediness. One of my new regulars comes into my room. He requests a burp show. Yes, you read that right. He asks if I can burp on command and being the tomboy I am, I of course say yes. All he wants me to do is burp. Whatever works for you, buddy.
8:05 p.m. I message Sugar Daddy and tell him to be expecting mail next week. He tells me his dick is hard thinking about getting my panties in the mail. I watch a movie and hit the sack.
DAY FOUR
7 a.m. My alarm goes off to clock in for the day. On Fridays, I work from home. I start by lounging around for a bit and enjoying my coffee.
10 a.m. I am showered and have done my hair and makeup for camming. Sugar Daddy asks if he can just watch me in open chat. I cam for a while before he tells me he wants to Skype. I log off my website and we Skype. We talk for a while and about an hour in, he tells me to finish him. I get completely naked with my ass and back turned toward the camera. As he is getting off, he sounds like a wild boar grunting all the while. I am laughing so hard. Luckily, my face is turned so he can't see me.
12:30 p.m. I do some work from my living room. I send Rick some naughty pictures and let him know I'm touching myself as I'm thinking about him. That really turns him on.
3 p.m. I clock out from my day job from my home computer and take care of some errands and cook dinner.
6:30 p.m. I decide to get back online again to see how the cam traffic is. It is steady and I see some of my regulars. I play naughty stepmom for a 21-year-old guy and suck my eight-inch dildo as he tells me how much he loves my tits. He wants me to ride the dildo and bounce up and down like I am riding him. He tells me how hard his cock is, and that it's throbbing. I love getting these young guys turned on!
8:25 p.m. I am done camming for the night and curl up on my couch. Pretty dull Friday night, but I'm okay with that. I'm a homebody. I do enjoy going out once in a while, but my day job sometimes burns me out. Camming can be mentally exhausting, too, because you have to be engaging, personal, charming, and open-minded. If you're not, you can't expect to make good money or have regulars.
DAY FIVE
10:16 a.m. Rick sends me a good-morning text with a pic of him. He's so adorable. I tell him I want his mouth on my pussy. He replies that that sounds tasty.
11 a.m. I log onto my site to cam for a bit. One of my regulars pops into my room. I haven't seen "Matt" in a while. He tells me he's needing me really bad. He is a sub, and loves it when I torture and deprive him. He takes me away from open chat so we are alone. I tell him I want to sit on his face and suffocate him because his cock got hard too quick, that he's pathetic and too eager like a 15-year-old boy. Another good show.
3 p.m. I go and get my nails done. Sugar Daddy wants a nail update. He loves women with well-manicured hands. I send him a pic and thank him, since I just saw that he put money in my PayPal account.
8:36 p.m. I send Rick a naughty pic from my shower. He tells me how fucking sexy I am with various emoji ranging from the devil, happy face, and heart eyes. I masturbate in new panties, thinking of Rick going down on me. I save those panties for Sugar Daddy.
DAY SIX
5:47 a.m. I get my good-morning text from Rick. Ugh, it's too early and a Sunday. No camming for me today. I have plants to attend a birthday party for my best friend's 7-year-old daughter.
11 a.m. I arrive at my friend's house. It's just a small family gathering, nothing too crazy.
2:34 p.m. Rick sends me a text asking if I want to know something dirty: He tells me he jerked off like three times to the pic I sent of me in the shower and that he came hard every time and needed a full-size towel to clean up.
4 p.m. I head home from the party. When I get home, I log on to my cam site to check for any messages. A fem boy messaged me to say he misses me and that he looks forward to another show. He loves to get humiliated and abused. The kinkier the better with "Sissy Tiffany," as he calls himself. I tell him I will be camming tomorrow. I need to think of a kinky scenario for our show. Maybe a trip to a glory hole …
DAY SEVEN
5:30 a.m. My alarm goes off. I begrudgingly roll out of bed to start my day.
7 a.m. I arrive at work and start the day with Yahoo News before diving into work. I have jail calls to listen to for one of my clients, and I need to locate some information on some other witnesses.
10:25 a.m. Sugar Daddy messages me, asks what I'm doing. I let him know. Surprisingly, he lets me finish my work and isn't being a needy bitch.
12 p.m. Lunch is a protein bar and an apple. Pathetic, but I need to lose some weight.
3:30 p.m. I get home and start making an early dinner because I think I'm going to cam for a few hours tonight.
5 p.m. Sugar Daddy messages me, again. He asks if he can watch me, so we decide to Skype. I have my hair in a bun, glasses on, a T-shirt with booty shorts.
6 p.m. Sugar Daddy finishes, grunting like a wild boar again. God, his grunting is so gross and weird. Thank God I don't have to watch him jerk off as he only lets me see part of his face while we Skype. I couldn't handle actually watching him.
6:12 p.m. I get a notification from PayPal and receive my spoilage from Sugar Daddy. I thank him and he replies, "You are so amazing, too much deserved." I put camming aside for the night and masturbate thinking of Rick. All in all, it was a good week of catching up with some of my camming regulars and leaving them satisfied. I don't know how long I will be in the webcam business, but for the time being, having the extra money is amazing.
Get Sex Diaries every week.
Want to submit a sex diary? Email sexdiaries@nymag.com and tell us a little about yourself.