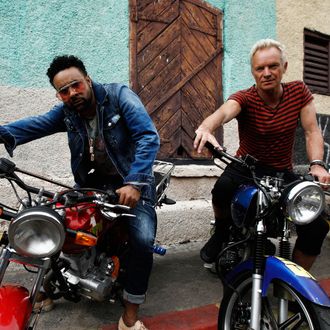 What's Good is a weekly column collecting TV, music, movies, and miscellaneous cultural ephemera worthy of your time. Why? Because we like it. Check back Fridays at lunchtime for your guide to what is good.
In the first song on 44/876, Sting calls reggae the "Shakespeare to his soul." This is clearly not a lie, as anyone who has listened to a Sting song ever knows. "Walking on the Moon" is essentially a plea for anyone, anyone at all to collaborate with him on a full-fledged reggae album, and also maybe give him a really good tour of Jamaica. And who has stepped up to answer the call? The one and only Shaggy.
When the duo showed up at the Grammys to perform their single "Don't Make Me Wait," I remember being shocked, then confused, then delighted, and then, like, into it. The song wasn't bad! And Shtingy (portmanteau workshop) seemed like they really enjoyed each other's company. It could have been a joke, but no, it was real.
They went on to make a whole album, 44/876 (a tribute to the respective country codes of their homes, England and Jamaica), and Sting, bless his heart, doesn't say "ting" one time. I've fully come around to their charismatic brand of pop-reggae. No, I'm not high, though it would be appropriate. Yes, I like this album, and if you are someone who still sort of wants to request Shaggy's hits at dance parties, there is a chance you will, too.
This album is what happens when a man who calls himself "Mr. Bombastic Loverman" meets the face of Tantric Sex for White Men and enters into a union of professional, creative admiration as well as mutually respectful friendship. The cheese in Sting recognized the cheese in Shaggy, and the two made fondue, baby. It's like we're eating at Melting Pot. Everybody grab your skewers and dip that meat.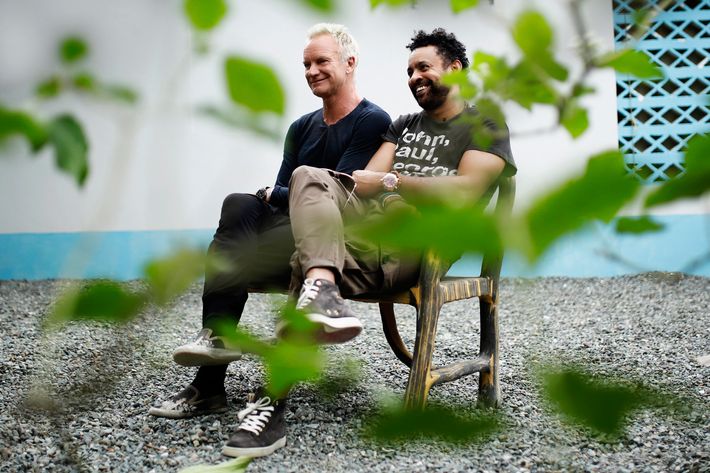 I'm not saying the album provides "bangers" for days and "slappers" for years — there's a song that talks about "morning birdies" for several lines. Not exactly a dance-floor burner. But the perfectly listenable album becomes even better when you think of it as a 12-song soundtrack to the fan-fiction that should be written about their friendship. Just imagine the two of them, getting in a studio, learning together, learning from each other. Laughing and teaching and talking. Traveling to Jamaica together, getting really high together. (The perfect song for that is the triumphant "Dreaming of the USA.")
Shaggy's grown up on "Gotta Get Back My Baby," a song about infidelity that's so much more mature and thoughtful than the attitude of "It Wasn't Me." He no longer denies having been caught butt naked on the bathroom floor: He's recognizing his wrongs. The gentle ballad helps you imagine the late-night conversations Shaggy and Sting had about their youthful mistakes. Other standout tracks include: "Sad Trombone," where Sting sings "my name for you is sad trombone," which I hope is his nickname for Shaggy; and my favorite, "22nd Street," a fine ballad that's the perfect song for swimming in the blue Caribbean sea with your friend, Shaggy.