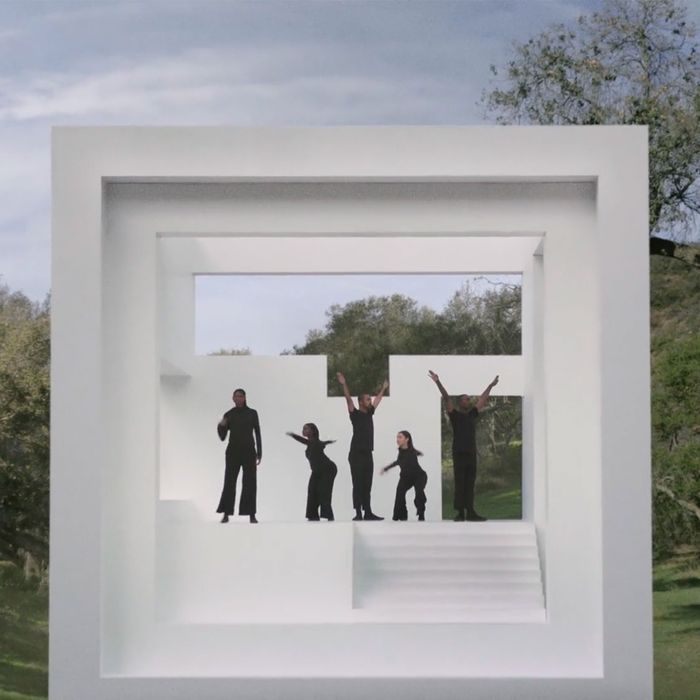 One of the sculptures from Metatronia (Metatron's Cube)
Solange premiered her latest performance art project "Metatronia (Metatron's Cube)," at UCLA's Hammer Museum in Los Angeles last Friday. In a roughly four-minute film that can now be viewed on the Hammer's website, dancers wearing Solange's signature monochrome perform delicately choreographed moves inside of and around large white modular sculptures set to an instrumental score produced by the artist herself. She also serves as creator and director of the project which was produced in partnership with Uniqlo.
Solange also released the following artist statement:
Metatronia explores the process, and mapping of creation. The piece is an exercise on following the intuitive force that guides us, helping us to create space, and silence the mind to create the work. Continuing my practices and interest in exploring the relationship of movement and architecture as a meditation, Metatronia centers around building frequency and creating charge through visual storytelling.
Solange is no stranger to using meditation in her art. She explored it as a tool of protest for her performance art project "Seventy States" at London's Tate Modern as part of its exhibit on art during the age of Black Power.
Early reviews of Metatronia (Metatron's Cube) are in from celebrity fans — Miley Cyrus left a comment on Solange's Instagram — and shortly after debuting this project, Solange trekked to the California desert to join her sister Beyoncé in an unforgettable dance duet at what will henceforth be referred to as Beychella.