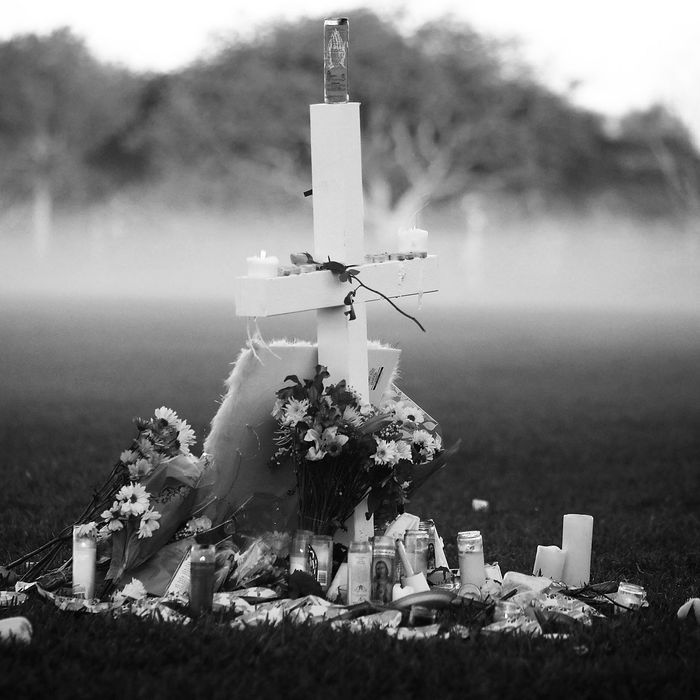 Vigil for victims of the mass shooting at Marjory Stoneman Douglas.
Photo: Mark Wilson/Getty Images
On Friday afternoon, Marjory Stoneman Douglas High School's newsmagazine published its first printed work since the tragic school shooting on February 14: A memorial issue dedicated to the 17 students and staff who lost their lives.
Following the shooting nearly two months ago, student reporters spoke with every victim's family members and friends, including those who have been less vocal, for this special version of The Eagle Eye magazine. The issue, simply titled "In Memorium," was distributed to every student and faculty member last week, and released digitally on the publishing platform ISSUU.
"Here is our memorial issue," student editor Carly Novell tweeted with a link to ISSUU. "Please read it, so you could find out more about who the beautiful individuals that we lost were. I hope we did you all justice. If you would like to donate to the issue, here is a link for that."
She continued: "So proud to be a student at Douglas, especially to be on the Eagle Eye. It's our job as journalists and students to show you all what our school is and who the people we lost were. Newspaper has created a family for me at MSD, and I couldn't imagine doing this without them."
On Sunday, the South Florida Sun Sentinel also published the issue, which was funded by a $1 million appropriated from the Florida legislature. Nikhita Nookala, another Eagle Eye, thanked the newspaper for bringing attention to the publication.
"thank you to the @SunSentinel for printing the Eagle Eye memorial issue in the Sunday edition today," she tweeted.