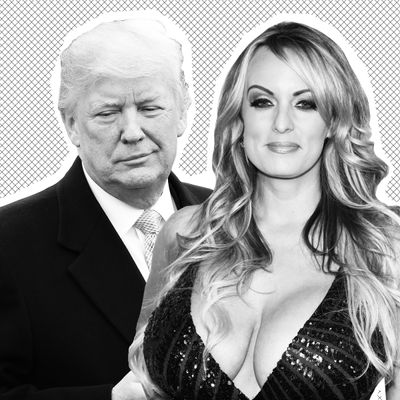 Donald Trump and Stormy Daniels.
Photo: Getty Images
Just over a week ago, adult-film star Stormy Daniels gave a 60 Minutes interview about her 2006 affair with Donald Trump and the subsequent $130,000 hush payment. The details were cringey (Trump reportedly said she reminded him of his daughter Ivanka; they had sex without a condom), but nothing we couldn't move past with some meditation and deep breathing exercises. Little did we know, it could have been much, much worse.
During an interview on Megyn Kelly TODAY on Wednesday, Daniels's lawyer, Michael Avenatti, suggested that CBS edited out Daniels's detailed description of the president's genitals (thank god).
"60 Minutes and CBS, as you know, they are a conservative network. I mean there is a lot of information that was said during that interview that did not make it into the final 60 Minutes," Avenatti said, adding,
"They [60 Minutes] play it very close to the vest. For instance, she can describe the president's genitalia in great detail. That did not make it."
Ah! CBS may not have included that portion, but now Avenatti has forced us all to consider it. Megyn Kelly was so shocked by the information that she temporarily lost all understanding of her senses.
"We don't need to hear that! My eyes!" she shouted, trying to shield her eyes from the noise.
Well, at least it's not his nudes. Yet.
Watch the full interview below, or go try to Eternal Sunshine whatever image Avenatti's revelation provoked in your brain.