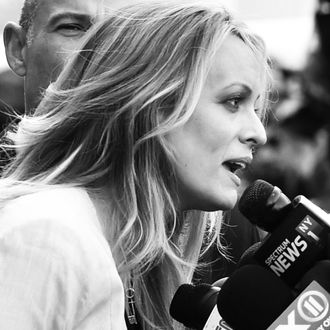 Stormy Daniels.
Photo: Hector Retamal/AFP/Getty Images
On Monday, President Donald Trump's longtime personal lawyer Michael Cohen appeared in court in an attempt to shield files recently seized by the FBI in an ongoing investigation into his dealings. After the hearing (during which Fox News host Sean Hannity was named as one of Cohen's clients), adult-film actress Stormy Daniels, a.k.a Stephanie Clifford, gave a brief but powerful statement on the Manhattan courthouse steps.
Daniels — who received a $130,000 payment from the attorney to stay quiet about her alleged affair with the president, and is currently embroiled in a lawsuit against Trump and Cohen to get out of the nondisclosure agreement — had attended the day's hearing, and began her short press conference with: "Hi everyone. So, for years, Mr. Cohen has acted like he is above the law. He has considered himself, and openly referred to himself, as Mr. Trump's fixer."
She continued, "He has played by a different set of rules — or should we say, no rules at all. He has never thought that the little man, or especially women, and even more, women like me, mattered. That ends now." Daniels added, "My attorney and I are committed to making sure that everyone finds out the truth and the facts of what happened, and I give my word that we will not rest until that happens."
Daniels had been swarmed by photographers when she arrived at the courthouse for the day's hearing. ABC News reports that Daniels was one of the last people to arrive in the courtroom and one of the first to leave, and that she observed the proceedings from a folding chair at the back of the room.