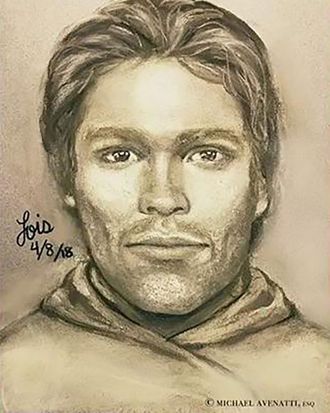 On Tuesday, Stormy Daniels's attorney released a sketch of the man who allegedly threatened the adult-film star in an attempt to keep her from discussing her affair with President Donald Trump. The incident apparently went down in 2011, when Daniels was standing at her car in a parking lot and a man she didn't know approached her. He allegedly said, "Leave Trump alone. Forget the story." Daniels also claimed that the man said of her daughter in the backseat, "That's a beautiful girl. It'd be a shame if something happened to her mom."
Threatening someone, particularly a mother and her child, and causing them to fear for their lives is absolutely no laughing matter. However, Daniels's sketch and description of the man — he's between 5'9" and 6 feet tall, is in his 30s to early 40s, has some light facial hair, and is "lean but fit" — seems to fit, well, every generic white male celebrity. So internet sleuths (by that we mean, Twitter users) have come to some hilarious conclusions about the man's identity:
Tom Brady:
Mark McGrath of Sugar Ray:
The lead character of Richard Linklater's movie Boyhood (played by Ellar Coltrane):
Smith Jerrod of Sex and the City (played by Jason Lewis):
Stephen Amell, the star of Arrow:
Jon Bon Jovi:
The Matt Damon puppet from Team America: World Police:
Chad Michael Murray (remember him??):
Billy Bush:
But one suspect already took to Twitter to clear his name, as he's not tall enough to match the description:
So that narrows it down.