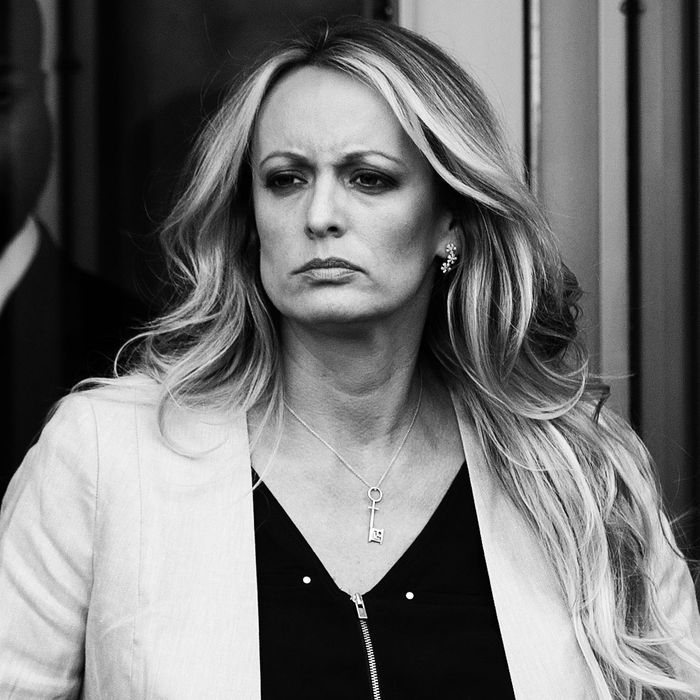 Stormy Daniels.
Photo: Drew Angerer/Getty Images
On Tuesday morning's episode of The View, Stormy Daniels's lawyer finally revealed the first sketch of the man who allegedly threatened the adult-film star as part of the effort to cover up her alleged sexual encounter with Donald Trump.
Just days ahead of Daniels's anticipated 60 Minutes interview in mid-March, lawyer Michael Avenatti teased on Morning Joe that Daniels was once "physically threatened," which Daniels later described to Anderson Cooper. In 2011, Daniels was reportedly standing at her car in a parking lot, on her way to a fitness class, when a man she didn't know approached her and said, "Leave Trump alone. Forget the story." She claimed that he then looked at her infant daughter in the back seat, and said, "That's a beautiful girl. It'd be a shame if something happened to her mom."
According to sketch, the man who allegedly threatened her is between 5'9" and 6 feet tall, is in his 30s to early 40s, has some light facial hair, and is "lean but fit." Before the image was shown, Daniels said "nothing was alarming about the way he looked at first."
Earlier this morning, Avenatti took to Twitter to announce that he would finally be releasing the sketch of "the thug" who threatened Daniels. "This is a search for the truth," he tweeted. "#thugsearch #justice #basta."
During her 60 Minutes interview, Daniels said that she "absolutely" took the encounter as a threat, but that she does not have proof the mysterious man is linked to Trump or his lawyer, Michael Cohen.