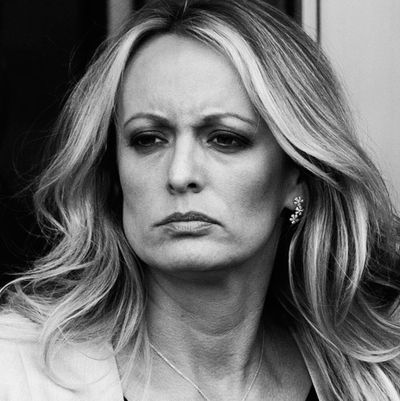 Stormy Daniels.
Photo: Drew Angerer/Getty Images
Stormy Daniels has filed her second lawsuit against President Donald Trump. The adult-film star is suing Trump for defamation, her lawyer Michael Avenatti announced in a tweet on Monday.
The suit claims the president made "irresponsible and defamatory statements" about Daniels in response to the sketch she released of the man she says threatened her in 2011 to keep quiet about her affair with Trump. She is suing him for damages in excess of $75,000.
After Daniels — whose real name is Stephanie Clifford — shared a sketch of the man on an episode of The View in April, Trump shared a tweet that compared the drawing to a picture of Daniels's ex-boyfriend, writing: "A sketch years later about a nonexistent man. A total con job, playing the Fake News Media for Fools (but they know it)!"
According to Daniels's complaint, this tweet "falsely attacks the veracity of Ms. Clifford's account of the threatening incident that took place in 2011," and was intended to "accuse Ms. Clifford of committing a crime under New York law." Per the court documents shared by Avenatti:
Mr. Trump knew that his false, disparaging statement would be read by people around the world, as well as widely reported, and that Ms. Clifford would be subjected to threats of violence, economic harm, and reputational damage as a result.
Earlier this year, Daniels filed another suit against the president and his lawyer, Michael Cohen, to dissolve the non-disclosure agreement she signed in exchange for $130,000 to keep quiet about her affair with Trump in 2006.