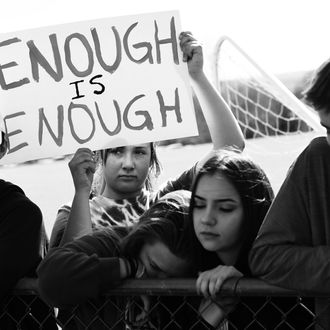 A student a Columbine High School holds up a sign that reads, "Enough Is Enough."
Photo: RJ Sangosti/Denver Post via Getty Images
On Friday, April 20, the 19th anniversary of the tragic school shooting at Columbine High School, students across the country will once again protest gun violence by walking out of their classrooms on National Walkout Day.
"We're protesting congressional, state, and local failures to take action to prevent gun violence," reads the event's official website. "America is the only country in the world where so many people are killed by guns, and yet our leaders do nothing about it."
Here's what you need to know.
Who organized this protest?
One of the event's main organizers is 16-year-old Lane Murdoch, who was raised near Sandy Hook Elementary School, where a horrific school shooting in 2012 left 20 children dead. She organized the event with three of her classmates at Ridgefield High School in Connecticut, ABC reports.
Where and when are the protests happening?
At 10 a.m. tomorrow, Friday, April 20, participating students will walk out of their classrooms. According to the event page, there are more than 2,600 registered walkouts planned, with at least one protest in every state.
What will happen during the day?
The organizers want this walkout to last the entire day. Starting at 10 a.m., students will observe 13 seconds of silence in memory of the 13 people who were killed at Columbine in 1999. From there, the day will vary from school to school. Evens will feature everything from rallies to voter-registration drives to other forms of gun-control-related activism.
Is it related to the other student walkout?
Yes and no. The first student walkout on March 14 was organized by the Women's March Youth Empower, and for 17 minutes, students around the country stood in silence in memory of the 17 people who died during the school shooting at Marjory Stoneman Douglas High School in Parkland, Florida. Though the concept is similar, the length of the protest and the organizers are different.
If I want to participate, what do I do?
The event's website has an incredibly informational "Walkout Planning Guide," which offers day-of tips, safety-related recommendations, and a guide to students' legal rights.