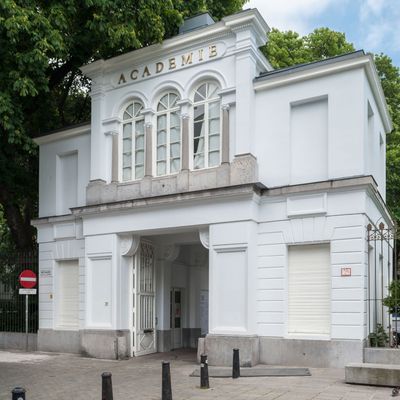 The Royal Academy of Fine Arts in Antwerp.
Photo: Michael Jacobs/Corbis via Getty Images
The Royal Academy of Fine Arts in Antwerp is known for churning out avant-garde fashion designers like Dries Van Noten, Martin Margiela, and Demna Gvasalia. It is also known for a rigorous curriculum and a graduation rate of 23 percent. However, following a student suicide on campus, some are questioning if the intense training is worth the mental toll it can take on students, according to a new report by Business of Fashion.
The student, who Business of Fashion declined to name, was in his final year of school and originally from South Korea. The student's motives for ending his life are unknown. However, the event spurred BoF to interview 14 former and current students about the culture at the academy. Many said the academy was excessively difficult and adversely affected students' mental health. They reported instances of drug abuse, eating disorders, depression, and PTSD that they believed they developed because of the program. One student told BoF:
"I decided to quit the fashion department after I left school one day so desperate that I went to the store, bought razor blades and planned to slit my wrists in the bathtub that night," one former student said. "After hearing for weeks on end that my work was worthless, without getting any explanation why, or any constructive criticism on how to do better, I started to believe it myself."
Students said the academy doesn't offer much specific constructive criticism and is excessively harsh. The program also weeds out students who aren't doing well, leading to the low graduation rate. A former student who spent three years in the program said, "Several students developed serious depression and drug addictions in order to keep up with the workload." Even the school psychologist said that the fashion program had "unrealistic expectations" and they hope "things will change."
Others said that the presence of the head of the program, experimental designer and alumni of the school Walter Van Beirendonck, was especially difficult. One student told BoF he was "perceived as being some kind of god," and another compared it to a reality show, "where there's a panel with someone cutting in with a funny insult."
Van Beirendonck declined to comment on the story, but dean Johan Pas said that the school would aim to implement new measures to prevent suicide, drug use, and depression within the student body. Regarding the allegations against Van Beirendonck, Pas said, "…as the head of the fashion department he is in charge of decisions regarding the strategies to be followed. Of course, the ultimate responsibility lies with me, and I am planning to take this responsibility fully."
One teacher said they believed that because the school is highly ranked among fashion programs, it was especially resistant to change. But perhaps this will bring a dark corner of the fashion industry into the light.