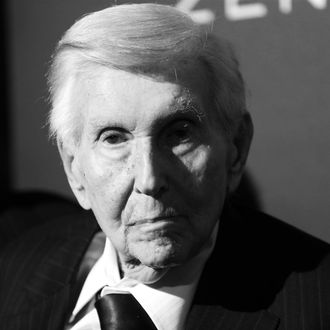 Sumner Redstone.
Photo: Michael Tran/FilmMagic
Sumner Redstone may be a billionaire media mogul, but no amount of money can stop the relentless march of time toward death. At 94 years old, Redstone's health is poor and he can barely speak anymore. However, he's reportedly been relying on another method of communication: a swearing iPad. Fun!
Questions have surfaced in recent years about Mr. Redstone's mental standing. To help him communicate, some people who recently have met with him say that he has an iPad loaded with snippets of his voice, connected to buttons for words or phrases including "yes," "no" and "f—you."
The good news is, you don't need to be disgustingly rich or a nonagenarian to take advantage of this luxury. Just open up your Voice Memos app, record yourself saying any number of rude things, and whenever you need to, silently play it back without breaking eye contact.