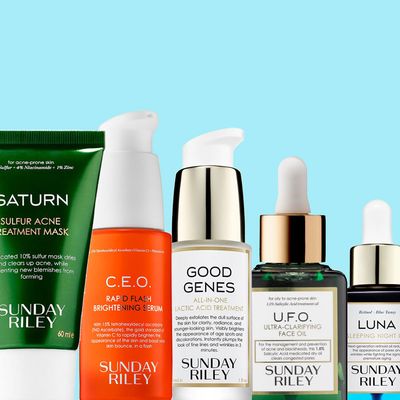 There's no doubt that Sunday Riley is a cult beauty brand. Search for it on any social media platform and you'll find seemingly endless praise. But while you may know a bit about Sunday Riley the brand, how much do you know about Sunday Riley, the woman? The Cut talked to the Texan entrepreneur before the launch of Sunday Riley's pop-up store in Manhattan (located at 201 Mulberry Street, and open from 11 a.m. to 8 p.m. from now until April 15). In our conversation, Riley talked about why she thinks Good Genes skyrocketed to cult status in recent years, her personal skin-care routine, and how she developed the brand's new foundation.
When you launched Sunday Riley, what did you want to present to the world that you felt was missing?
When we launched in 2009 there was a real hole in what I call "green technology," which is balancing science-based active ingredients with botanicals. I always say I have a goal to live to 120 without looking like I'm 90. I want to continue to keep looking okay, and you need active ingredients to do that. But there are other ingredients I love, like botanicals, and at the time there wasn't a real mix of that.
What's your background? Are you a cosmetic chemist?
A lot of what I know about cosmetic formulation I actually learned on the job. I learn every single day. Every product I make, I try and upgrade my skill set and figure out how to do more. I learned about five new techniques for this foundation alone. I learn a lot by trial and error. Take that as you will. I always say, listen to the ingredients, listen to the products more as an art form than as a chemistry experiment. What are we trying to create here? What is the texture we're going for? What is the scent? What is the overall 360 experience that we're going to have?
Which product are you most proud of?
I'm proud of all of them, and if for some reason I lose my pride in one, then I cut the product from the lineup. Someone asked me earlier how many products in my line are from [Sunday Riley's] beginning days. I said one; everything else was cut. If I somehow think I can do better, then I'm going to start again. It takes a long time for me to get a formula right. I'm not fast in the sense of "second try and it's perfect"; it takes me hundreds of times to get it right.
You aren't proudest of Good Genes?
I'm proud to have it in our lineup, but it's not the one I'm the most proud of in the sense that I'm more proud of it than the others. It's not because [my products] are my babies; I try to be unemotional about them because I will cut them if they're not performing. This foundation is one of the hardest products I've ever made. Not only did I make the formula, but I made it in 20 shades.
How do you digest being an important staple in a lot of women's lives?
I share a name with the brand, but we're not the same. I'm pleased beyond belief that people have it on their counters and it's part of their nightly rituals. It's a dream come true to have that job, but I don't confuse that with me. Instead of thinking that I'm so great, it's actually the opposite. I feel humbled and responsible.
Do you go on Reddit?
I do, but I have a rule where I try not to read too much about the brand or the products. And I try not to read too much about me or look at too many of my own photos. I also want my team to say, "Hey, by the way this is something people have a complaint about." Those I want to know right away. Other than that, I don't want to connect to fear, and I also don't want to connect to praise.
Why do you think everyone is obsessed with Good Genes right now?
When Good Genes launched, there weren't many acids in the U.S. market. Skin-care junkies were, for sure, in the know. But when the average consumer starts saying, "Oh, I understand that, too," that's where a category can really blow up. It's a great product where you see instant results. The average person was able to try something that made them look great, and for the most part it didn't irritate their skin. Word of mouth spreads like wildfire.
Did you notice an uptick in sales when people started talking about Good Genes a lot online?
We have, but we've noticed a dramatic uptick in sales with other SKUs too. Good Genes is rising, but the brand as a whole has experienced this nice moment. It's interesting to see which products take off.
What's your No.1-selling product?
Good Genes does incredibly well for us. Power Couple does incredibly well too, which has Good Genes in it. U.F.O. does phenomenal for us. C.E.O. does great. Luna does fantastic. Tidal does wonderful. We've done well in the acne realm as well.
What's your skin-care routine like?
I wash my face twice a day. I use Good Genes three times a week. For my level of dead skin buildup, that's perfect for me. In the morning I do C.E.O. vitamin C serum, and then I follow with Tidal. I let that sit while I brush my teeth, and then I put my sunscreen on, and then foundation. At night I wash my face. Then I'll do Luna and let that sink in for a second, and then I will do C.E.O. serum again. Then I will either do Tidal or C.E.O. cream if I feel like I need a little more moisture. I don't have a lot of congestion in my skin, but once a week I'll do some U.F.O. to keep my pores cleared out. I'll do a facial massage with Juno every once in a while too. I love Juno; I'll use it on everything. I use it on my hair, my fingernails, I carry it in my purse! If I'm on a plane that's what I rub into my skin.
Would you ever make a hair product?
In a heartbeat. I love the hair genre, including scalp health. I just think it's really interesting.
What's the most important thing a person can do if they want great skin?
You've got to wash your face. A lot of people don't do that. It's also really important to exfoliate. You could spend $5 billion on the best products in the world, but if it's just sinking into your dead skin cells, it's like, what's the point?
What's the origin story of your name?
My dad named me. It was Austin, it was the hippie era. He said he wanted to give me a name that would be great for business if I wanted to go into business someday, which I think is pretty funny. It was difficult growing up as a chubby, awkward kid named Sunday, but I'm glad for it and I really love it.
Sunday Riley had a makeup line many years ago. Why did you discontinue that line?
It was in 2011, maybe, and it was really ambitious at the time and probably too soon for us. We had only been around as a skin-care brand for a year and a half and the makeup line was huge. We had 12 liquid foundations, 12 cream foundations, 3 mascaras, 25 eye shadows, 25 lipsticks, 6 blushes, 6 press powders, 3 loose powders, and 6 lip glosses, but we didn't have any brand clout. There weren't a lot of tools lined up to really help spread the word, so financially it just seemed to be such a burden to continue on. I was like, "I don't want this to tank the whole company," so we tapered down.
How did you develop the new foundation?
It was about getting the right amount of shades; that was really important to me. Even though a lot of our retail partners were like, "We don't have space to give you," I said that we are going to do a minimum of 20 shades anyway. In today's day and age, if we don't represent everyone, then it's very false.
The formulation is sheer; it's got what we call a "real skin finish." If you want to put on a ton to get great coverage, you absolutely can, [and] each shade can branch out to two or three different human shades. I needed a lot of different people to come in and test it. It was a labor of love that involved a lot of friends and family coming in, and borrowed arms … a lot of arms.
This interview has been edited and condensed.