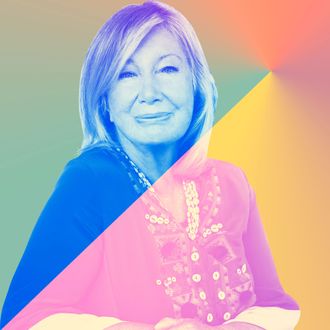 Photo-Illustration: Stevie Remsberg
Sylvie Chantecaille is a warrior for animals and your skin. Dressed in Dries Van Noten, her hair an "expensive" shade of blonde, Chantecaille could easily be a lady who lunches at the Colony Club. Instead, when she's not formulating her next skin-care potion, she's on the phone with the David Sheldrick Foundation or Lion Guardians, figuring out ways to help save endangered animals.
For the past 20 years, Chantecaille has created fragrances, skin care, and makeup — and in the last ten, the brand has added philanthropy to its platform. The brand embosses the eye-shadow pans of its signature and collectible palettes with at-risk animals, and donates portions of the proceeds to the organizations connected to them. This spring marks the brand's 21st campaign, commemorating it with a collection of six blushes imprinted with past causes, including monarch butterflies, sea turtles, and corals.
Chantecaille grew up in Paris's posh Sixteenth Arrondissement, where, as an only child of two art collectors, she was most comfortable with her parents' art-world cohorts ("I was an adult from a very early age" she says). Gabrielle Chanel, a family acquaintance, designed her party dresses for the Paris ball circuit when she was a young débutante.
She moved to New York with some friends, among them Egon von Furstenberg, husband at the time to Diane. She soon found herself traveling in the same circles as Andy Warhol and his Factory. "Andy called me the Duchess because I had an apartment on the Upper East Side," she laughs. "He'd come over with his dachsund and sit on my inflatable plastic couch."
She met her future husband, Olivier, in the city. Then her friend Diane von Furstenberg, who had made a huge splash with her wrap dress, wrangled Sylvie to help her start a beauty line. She found a lab though the yellow pages, then set about creating the products that would become the designer's makeup line, as well as the iconic fragrance Tatiana. They sold the business four years later, and within months, Estée Lauder rang.
Her tenure at Lauder birthed Prescriptives, the groundbreaking cosmetics line that introduced the concept of custom-color foundations, freshly mixed in front of customers, not to mention the game-changing grapefruit-based Calyx fragrance. But after nearly 18 years, she was ready to create her own label. In 1996, she launched the brand featuring her family name.
Chantecaille was one of the first brands to source natural, pure, and botanical ingredients — they were the first to tap plant stem cells for their anti-aging properties. A visit to their open office loft in Soho, one will likely find Olivier and all three of her children (Olivia, Alex, and Philippe) at their desks, as well as their beloved rescue Saluki, Ella. Sylvie recently sat down with the Cut to extol Ottolenghi, and to share her appreciation for excellent dialogue and her early aspirations for sainthood.
Morning person or night owl? Night owl. 10 p.m., precisely. At this point in the evening, I have had a full day. It's the hour when I start reflecting and finish my intentions.
When you were a child, what did you want to be when you grew up? A saint or a nun. I had very different ideas, growing up and going to Catholic school.
What name did you wish you had as a kid? You get to choose your name for confirmation, so I chose a simple, plain, strong one that differentiated itself from my given name: Dominique. So I was Sylvie Marie Françoise Elisabeth Dominique de Bois de Soheit.
Shampoo/conditioner of choice: Leonor Greyl.
Who cuts your hair? Gabriele Vigorelli at Sharon Dorram Color.
Weekend shoe of choice: Tod's suede lace-up boots. I wear them in the country and when I'm in Africa. When it's warm, I live in espadrilles. I love the feel of fresh new cord on the soles of my feet.
Favorite grocery store: Round Swamp Farm. It's a family-run country market, farm stand, fish market, and bakery in East Hampton. Everything is locally farmed, freshly prepared, and special.
Go-to karaoke song? George Michael's "You Have Been Loved" or "Older."
What phrase or word are you known for saying? "Let's do it!"
What have you binge-watched recently and loved? Billions. Andrew Ross Sorkin's dialogue is so precise and good!
What drives you crazy? Inefficiency drives me nuts. Or when people are judgmental of others when they have no knowledge of a situation and are just making assumptions.
What is a lost art? Conversation, letter writing, and chamber music.
What is always on your desk? A large white crystal that comes from another planet, apparently, and is meant to sharpen the mind. I also always have fresh flowers.
What is always in your fridge? Homemade applesauce because it's my favorite breakfast, and probiotics.
What should Pantone's color of 2018 have been? A vibrant pink with an orange tone.
What are you working on mastering? Relaxation.
What do you splurge on? Safaris.
What is your Achilles heel? I don't know when to stop working, so I suppose it's a strength, too. The truth is when it's your business, and it's an international one, you work all the time.
What preoccupies your thoughts? So much. But top of the list is definitely finding ways to get people to think about preserving the richness of our planet — specifically lions, elephants and forests.
Favorite Instagrams? @dswt @Carmen.busquets @Natgeo @JustinePicardie @spaceforgiants @LindaFargo
@TimLaman @enricsala @Dereckjoubert @Oliver.Nicklin @Markjdrury.
What or who makes you laugh? My granddaughter, son Philippe and his dogs crack me up. Also, The Marvelous Mrs. Maisel.
Favorite meal and where? Anything from Ottolenghi in London. It's about the visual, the joy, the taste … it's all exciting.
What person, place, or thing has most recently surprised you? Prince William! He is extremely cool, intelligent, and real.
Favorite spot in the entire world? St. Barth's is the place where I have a stupid grin on my face all day long.
What product in your domain is misunderstood and should be a best seller? Our retinol body cream because it changes your skin instantly. It's probably expensive for a body cream, but it's so worth it.
What do you foresee as the top beauty trends in 2018? Gold, gold, gold! People need to be restored, rejuvenated, balanced.
If you won the Power Ball tomorrow, what are the first five things you would do (after, of course, donating the majority of it to your top charities …)? I'd buy a very large island so I could have a place by the ocean and build a marine protected area. I'd also buy a large tract of land in Kenya to provide a protected area for animals to roam, and I'd do the same thing in other areas around the globe. I'd create a safe place for children coming from countries ravaged by war. I'd invest in solar energy initiatives for women, which would allow them to generate income, feed their children, and send them to school.
I would also buy a beautiful, chic hut on the beach near Zanzibar and invite my friends and family. I would buy my own plane (but I would be sure to offset my carbon emissions).