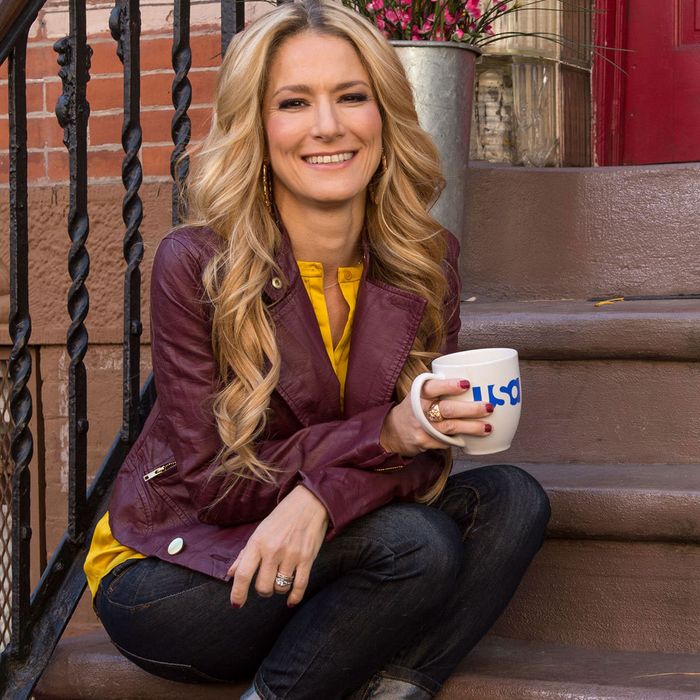 Talk Stoop
host Cat Greenleaf.
Photo: USA Network
Cat Greenleaf, longtime host of taxi-TV staple Talk Stoop With Cat Greenleaf, is suing NBCUniversal, LX, and LX senior vice-president Meredith McGinn for unlawfully discriminating against her due to her struggles with clinical depression.
The Emmy Award-winning host says she has suffered from depression for much of her life — a mental illness of which her producers have long been aware, but one that only became a major problem in autumn of 2017. In the lawsuit, provided to the Cut by Lindsay Hogan and Judd Grossman at Grossman LLP, Greenleaf claims that she was fired after confiding in her supervisors at NBC and LX about her relapse of severe depression following the loss of a dear friend. At the time, Greenleaf was attending grief counseling and taking an anti-depressant medication, and while she was suffering, she claims that her work was not.
In December 2017, "within days of discussing the resurgence of her depression," the suit claims that NBC fired Greenleaf, effectively immediately, without any notice or prior warning. She was at first told the reasoning was insubordination, but it changed multiple times, according to the suit. In the termination letter she later received, NBC reportedly claimed that she had violated exclusivity obligations. At the time of her firing, Greenleaf still had more than one-and-a-half years remaining in her three-year contract.
"These purported breaches are pretext for discrimination due to her mental illness," states the claim, filed Tuesday morning in New York State Supreme Court.
The suit claims all defendants violated Administrative Code of the City of New York and New York Executive Law 296, both of which concerns unlawful discriminatory practices; and that NBC and LX breached her contract, which required that she be given written notice of any violation she may have committed, as well as reasonable opportunity to cure the violation.
It was nearly 10 years ago that Greenleaf hatched the idea for Talk Stoop, when she was working at New York NBC affiliate WNBC. Her concept: She'd interview stars like Deepak Chopra, Nicole Richie, and Barry Manilow, while perched on the stoop of her Cobble Hill brownstone. In 2009, Talk Stoop made its debut as a segment on morning-show Today in New York; today, the 30-minute show airs on NBC-owned stations, out-of-home platforms, and the USA Network.
In a statement to the Cut, Greenleaf said, "Depression is a disability, and I'm filing this lawsuit to hold LX and NBC accountable for disability discrimination. This lawsuit is about more than simply vindicating my own rights; my goal in bringing this lawsuit is to be a voice for the millions of Americans who suffer from this serious disability but who may not have the ability to fight this fight. Employees should be able to seek treatment for mental health issues without fear of losing their jobs."
The past six months have seen a number of scandals and changes in the world of talk-show television. And while the majority of the high-profile cases (Chris Matthews, Charlie Rose, Matt Lauer, Ryan Seacrest, Mark Halperin, Tavis Smiley) have involved sexual-misconduct allegations, some have had to do with power imbalances of other sorts. Catt Sadler, for example, quit her job at E! because she was reportedly paid significantly less than her male counterpart. People in a competitive, desirable field seem to be taking a closer look at their working conditions and speaking out about what they believe to be unjust.
So far, NBC has kept Greenleaf's firing under wraps, partly through continuing to air old episodes she filmed through the beginning of March 2018. Just yesterday, NBC announced that American radio and TV personality Nessa Diab would be taking over as host of Talk Stoop. In the press release, the network gave no mention of Greenleaf, but a person familiar with the situation told Variety that Greenleaf left to pursue other opportunities.
According to the suit, Greenleaf is seeking the following: "compensatory and consequential damages in an amount to be determined at trial; punitive damages under New York City Administrative Code in an amount to be determined at trial; reasonable attorneys' fees, costs, expenses, and disbursements; and such other relief the Court deems just and proper."
When asked for comment, an NBC representative said that the network is not commenting at this time.
Correction: This piece was incorrectly named an exclusive, when The Blast broke the news earlier this afternoon. The Cut regrets the error.