Seven years ago, Erin Zapcic — a petite, muscular woman with hair dyed the raven-feather hue of Snow White's — walked into Medieval Times in New Jersey, looking for a job. She was an aspiring actress who had just moved to the area (18 minutes away from Port Authority) to be closer to classes and auditions. Zapcic got hired in the gift shop and a month later was promoted to "bar wench"; after a few more months, she worked her way into the show's cast, as one of the four rotating princesses who wait for a knight or a king to rescue them, two shows a day, three days a week. At that time, it never really occurred to Zap­cic, now 29, that she might one day sit on the throne or that perhaps there was some sort of glass ceiling to break. But today she is Queen Doña Maria Isabella of the Lyndhurst, New Jersey, Medieval Times, in between the Courtyard by Marriott and the Quality Inn. She no longer has to wear the wenches' corset, a perk of the promotion.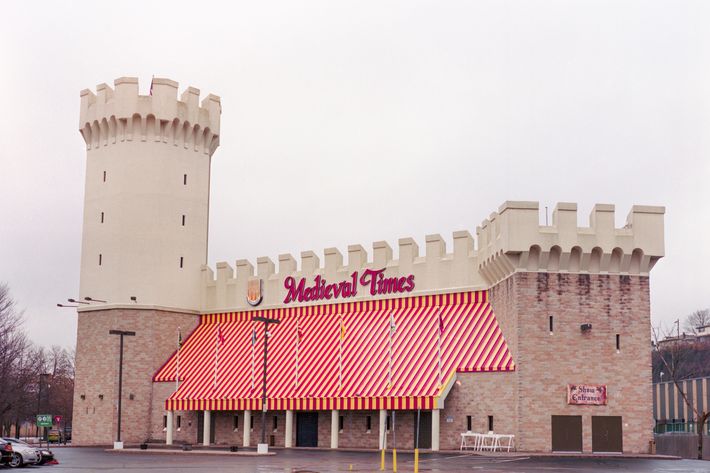 Since the first Medieval Times opened in Florida in 1983, the chain of dinner-theater monarchies has been ruled by men. The announcement that it would be replacing kings with queens arrived in October, just as the first wave of #MeToo stories emerged, and the introduction of a female ruler seemed irresistibly resonant. Media outlets from Vogue to the New York Times covered the news, and when Zapcic appeared on local TV, she described guests approaching her with tears in their eyes.
Whatever the coverage, the transition had actually begun 18 months ago, inspired by requests on audience comment cards: People wanted to see women featured more prominently in shows, and corporate answered. It was more a question of enter­tainment than politics, Zapcic explains, as she gives me a cheerful all-access tour of her castle. "Women make great stories."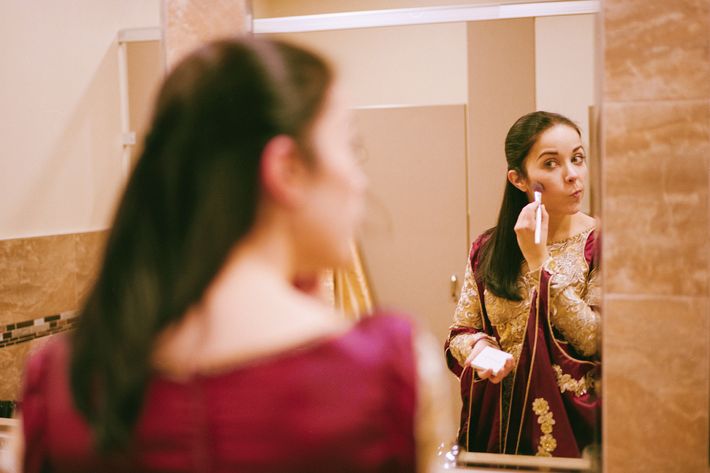 I'm visiting on a rainy Friday in March, in the hours before a 5 p.m. performance, to meet the new monarch. Those who fear change can take comfort that Sovereign, the updated show, still features six jousting knights and some truly thrilling displays of falconry, and requires (or permits) guests to eat a quarter-chicken with their hands. The two-hour production focuses on a queen who has inherited the throne after her father's death and must face down constant challenges to her authority. "You'll see tonight," Zapcic tells me with a huge smile. "There's moments where she's tested, and one where she really has to dig in and lay down and say, 'No, you're in my house.' " There's one line in particular that will really get me, she promises.
Zapcic slowly rides her gray-and-white Andalusian stallion around the ring and surveys her realm. In addition to her kingdom (pop. 1,300 at capacity), she now reigns over the costume department, the on-site stables, and an employee hangout area with a time clock where she punches in and out. In the Great Hall, she knights intrepid guests; in the back office, she spends two or three days a week answering phones when she's not performing.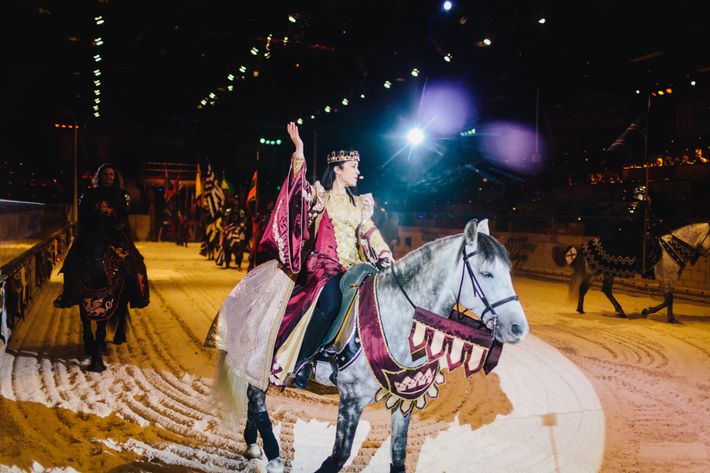 Zapcic had never ridden a horse before this role and had two months to learn the basics. Now her show days start with an hour of practice in the ring — Ivan, a beefy trainer who looks like he belongs on a romance-novel cover, instructs her. Today's lesson ends shortly after the horse begins to buck, and Zapcic joins me in the beer-sticky arena seats to watch another trainer work. "Piano Man" plays over the sound system. "I'm sure that I could be a movie star / If I could get out of this place," sings Billy Joel, as serfs and wenches set up for the show.
When Zapcic was a wench, she tells me, she rarely dealt with workplace harass­ment, save for a few moments with rowdy corporate groups. In those situations, she deflected by staying in character. She demonstrates, adopting a vaguely British accent and giggling: "Well, the king keeps a very watchful eye over his liquor supply, my lord."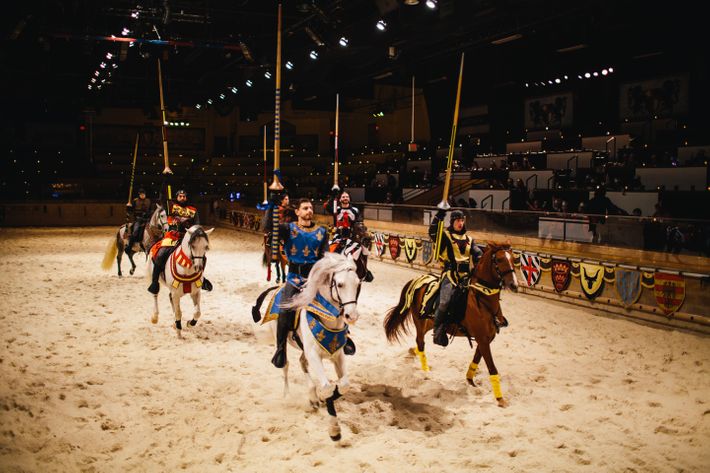 Rehearsals for the role started in Novem­ber. For eight hours a day, she practiced carrying herself like a queen — Medieval Times empowerment training, if you will. This meant making her movements "more heavy, and moving with conviction and not apologizing for taking up space," Zapcic explains. "I have to fill this whole arena from that chair." She points to the throne at the very top of the stadium seats. "I add a little bit more color to my speaking voice." She illustrates by dropping an octave and booming out, "Ho."
We cross the parking lot to a café, where Zapcic grabs a Whole30-approved lunch. As she eats, she tells me about her cat, Joker, and her mom, whom she calls the Leslie Knope of her seaside Jersey hometown. Then, with less than an hour to showtime, she heads to the ladies' room — the nicest one — to get dressed. She pulls the huge gold-and-crimson gown over her riding pants, touches up her makeup, ties her hair into a regal pony­tail, and puts on a pair of ruby-colored earrings she bought on Amazon.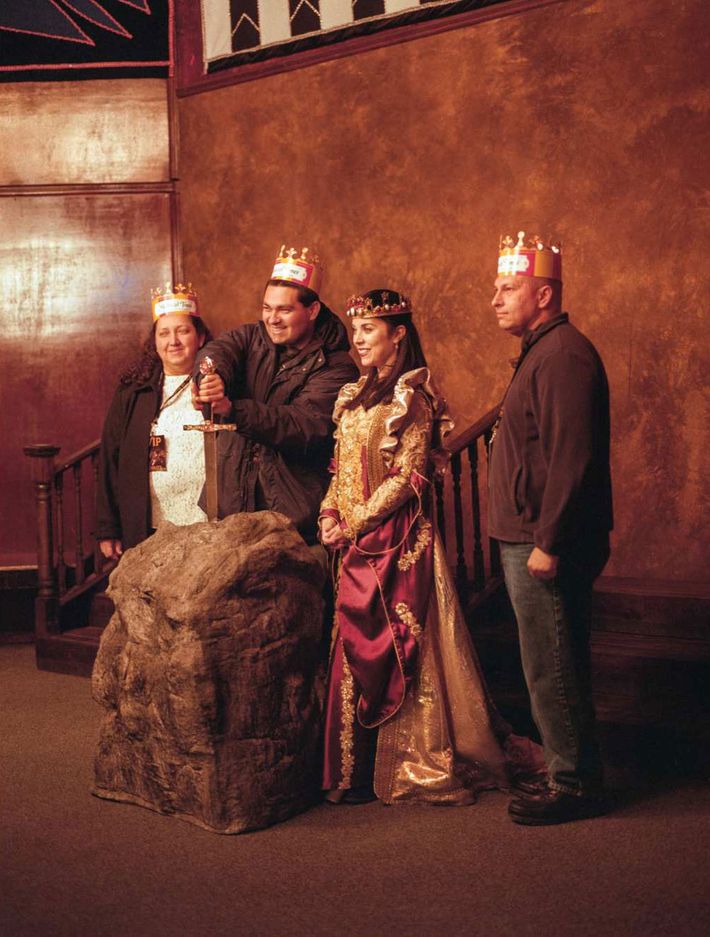 While she dresses, I ask Zapcic if she considers herself a feminist. "Well, I wouldn't say I'm an activist," she says. "I believe strongly in equality for women; I guess I would say I consider myself a feminist, but I'm not marching in the streets."
She bends down and gingerly picks up a white USPS box with her name on it: It contains the queen's crown.
"Do you want to hold it?" she asks. I, of course, do.
"It's not as heavy as I thought," I say.
"It does get heavy after two hours," she says. "It starts to crush my head."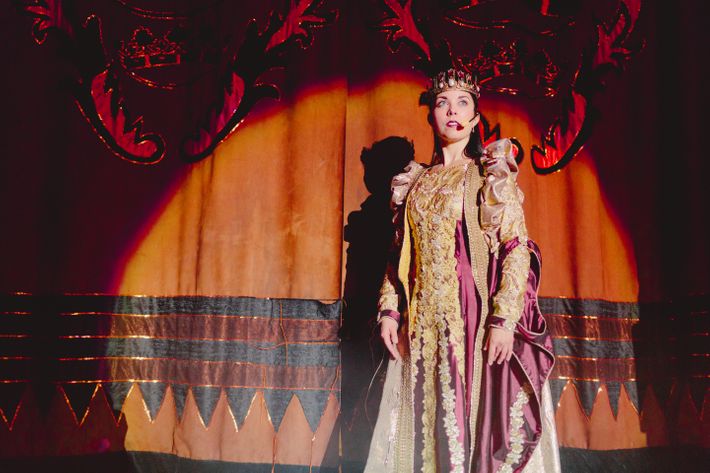 At 3:47, the doors open, and the slow trickle of guests who paid $63 for entry begins. Birthday parties, families, co-workers, one guy who came alone and maybe just wants garlic bread — wearing paper crowns and big grins, they all stop and pose for pictures with Zapcic.
They've come for the chicken and the spectacle. Meanwhile, there are small changes everywhere. The King's Royalty Package is now the Queen's Royalty Package, and eventually all the merchandise that says KING will say QUEEN, I'm told. I overhear a little girl in pink leggings loudly correct her mother as they pose for pictures: "She's a queen, not a princess."
At the show's end, Medieval Times' publicist stops me to ask if I felt it — the line Zap­cic mentioned, that shot of feminist adrenaline? Over the course of two hours, in which I picked a chicken carcass clean, Queen Doña Maria Isabella made many weighty declarations. "Forget not I have inside me the blood of the king," she said, and "I am queen here, and decision lies with the queen alone, not with a man," and "I can slay a man where he stands." I can't be sure which line Zapcic meant. They had all inspired a woman in the audience to holler, "Yassss, Queen. Yass!" repeatedly, with gusto, until the final knight left the ring.
*This article appears in the April 16, 2018, issue of New York Magazine. Subscribe Now!