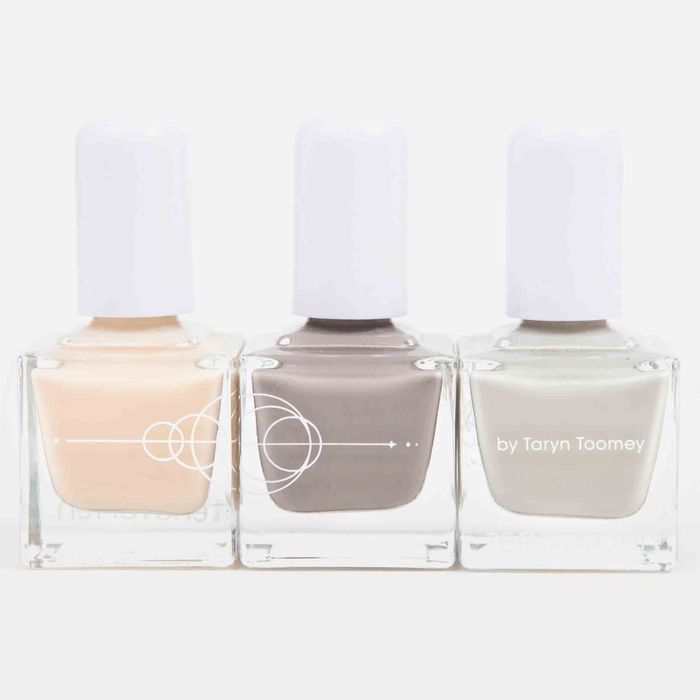 Shouting, pounding, and chanting are all common occurrences at wellness guru Taryn Toomey's popular workout class. While that may sound chaotic and not at all centering, Toomey's devoted clients insist it is, and her new nail polish line with Tenoverten has shades that look just as soothing. The polish collection is Toomey's latest with the brand, and unlike her previous one that included sandy brown and dusty pink shades reminiscent of the desert, these three new ones are lighter pastels that may call to mind a peaceful sunrise.
Tenoverten's co-founder Nadine Abramcyk said the hues were chosen to reflect the "incredible grounding nature of the Class." The Class is Toomey's popular workout session, frequented by Naomi Watts and Christy Turlington, that involves yoga and dancing in a millennial-pink studio in Tribeca. The polish trio includes shades Peach Quartz (a creamy pastel peach), Smokey Sage (an olive-tinted gray), and Solar Eclipse (a grayish taupe).
Like all of Tenoverten's polishes, the eight most-toxic ingredients (including formaldehyde) in most common nail polishes aren't in the formula, making the trio a safer alternative to other brands. Along with the trio, Toomey and Tenoverten created a $155 bundle that includes the polishes, a pedicure at one of Tenoverten's salons, and a credit for Toomey's the Class workout session.
The polishes are sold as a trio and are available now from Tenoverten.