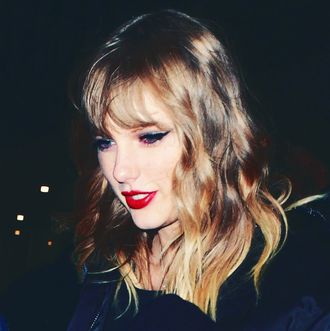 Taylor Swift.
Photo: James Devaney/GC Images
A man who sent threatening message to Taylor Swift's family and followed her motorcade was sentenced to ten years of probation and GPS monitoring on Monday, TMZ reports.
Frank Andrew Hoover, who was not Swift's only stalker, was first arrested in October 2016 in Austin, Texas, where he reportedly followed her car leaving a concert and going to the airport, where she was to board a private plane with her parents. According to police documents, Hoover had been harassing Swift's father via creepy emails before this occurrence. In one example, he reportedly wrote, "Without her, I walk the earth alone forever and she'll continue to experience failed relationships that break her heart."
At the time of the 2016 incident, Swift already had a restraining order against Hoover. Because Hoover got within 25 to 50 feet of Swift's car, he was arrested for violating the order.
In court today, Hoover was sentenced to ten years of probation after pleading guilty to repeatedly violating the protective order. TMZ reports that his location will be monitored via GPS for at least one year; he will have to undergo psychological and drug testing, attend substance-abuse classes, and surrender all firearms; and he must stay at least one mile away from Swift and her family.