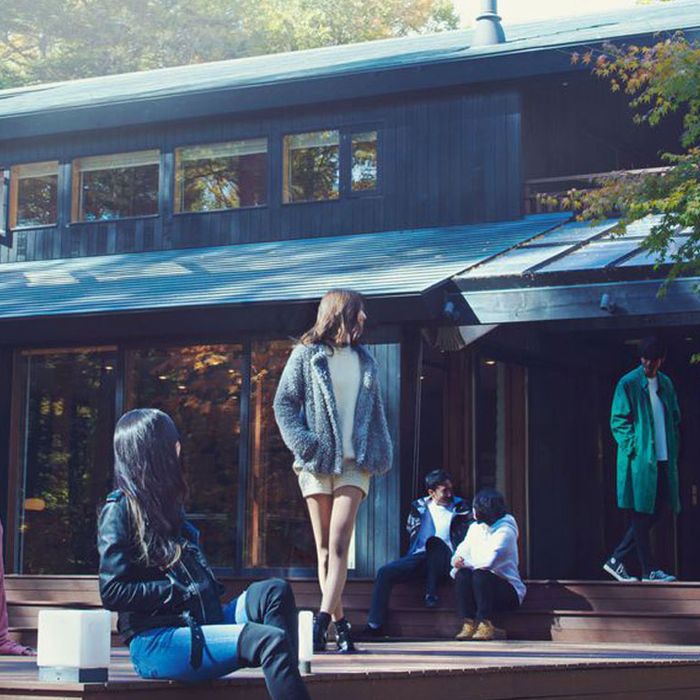 Photo: Fuji Television Network Inc./East Entertainment/Netflix
Konbanwa! That's "good evening" for all of you, my Terrace House students! Welcome back to Nothing Can Terrace Apart: A Terrace House recap where I let you into the inner workings of my soul. You've officially arrived at episode two, "A New Experience for Her," which sounds like Netflix is venturing into the arena of female-friendly soft-core porn. But there's no actual porn involved, yet (I'm looking at you Shion and Taka). Let's get to the episode.
As every episode of Terrace House starts, our dear panel of celebrities — Azusa Babazono, Yoshimi Tokui, You, Reina Triendl, Ryota Yamasato, and Shono Hayama — give us a recap of the previous episode and share some opinions about how they think the current group of housemates are doing. What's most notable is that they unanimously agree that Ami, the 20-year-old "student," is doing the legit bare minimum to make it through university and finally model like her little heart desires. Though she goes to school a whopping two times a week, it's clear she, unlike Shion, won't admit that she came on the show solely for exposure and to jumpstart her modeling career. Be honest with us, Ami, GEEZ! The celebs recount more of last week's introductions, but I'm a little distracted because all of the flashbacks to Taka have me preparing to knock down Netflix's door and DEMAND every man on this show show at least 75 percent of their bodies at ALL TIMES!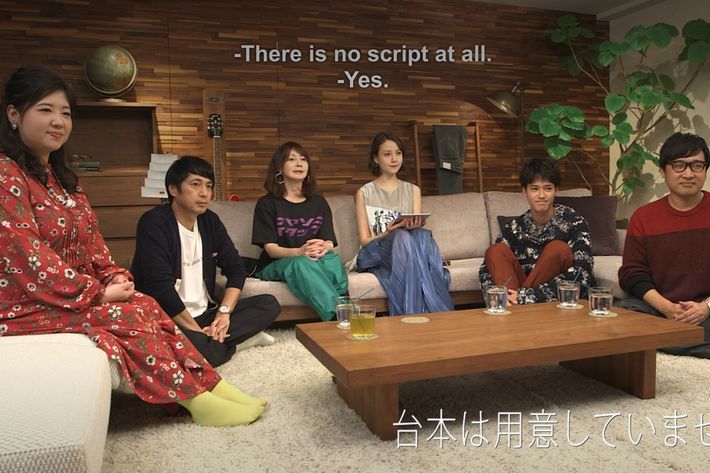 The show opens early on a Karuizawa morning, as 19-year-old Yuudai, the home's aspiring chef, prepares a massive pot of soup. He appears to be the only member of the house awake, which is good, as it appears that this is the first time he's seen an onion, knife, chopping board, pot, stovetop, or anything else a chef would need to know how to use. Basically, homie is confused, and he most certainly cannot cook. The little sister in Love, Simon has more kitchen prowess than Yuudai ever will, and that's a fact!
Once Yuudai's done, his housemates start to wake up. Mizuki is the first to arrive to the kitchen, in a full face of makeup, ready to take on the day, which prompts Yuudai to ask if she's seen Ami makeup-free yet. Mizuki has and says she looks great with and without a full beat, which upsets Yuudai. He tries to joke that he would have preferred for Ami to be ugly without makeup so that he could tease her about it, but this new development thwarts his plans.
More housemates trickle into the kitchen, and Yuudai is able to serve Taka, Mizuki, and Ami heaping bowls of this translucent soup. And guess what? No one likes it! Before anyone even eats it, they gaze into their bowls and suggest the soup looks "light on flavor." Once they finally have to ingest it, they all look supremely sad and forced into a meal that's doing more harm than good to their bodies and taste buds. All anyone can say is "It's subtle … but good …" as Yuudai repeats "It's not good" and "I'm sorry." After each soup-eater avoids making panicked eye contact with one another, they depart on their respective ways for the day.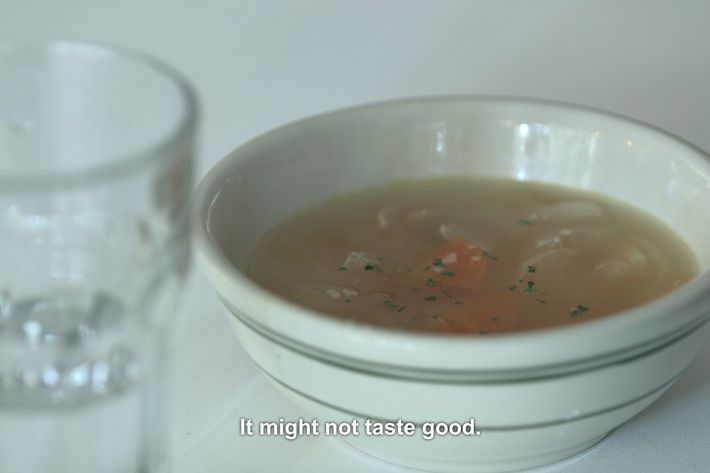 We follow Ami to school, and she's dressed in a full business suit for her Ministry of Economy classes. Though we don't get to see Ami in class, we do enjoy her two friends, also dressed in businesswear, which one has paired with an eye patch. Cute! Ami and her friends grab a bite, and we're treated to a whole other side of Ami that she's yet to bring home to Terrace House. She admits that she's "not herself" there, and instead of referring to her housemates by names, she calls them by age and job. This means Taka is a "31-year-old snowboarder," and Shion is a "22-year-old model," whom she's not attracted to, despite him being conventionally FIONE!
Continuing this impromptu audition for Terrace House: Mean Girls on Netflix, Ami goes in on not only Yuudai's cooking, but Taka's from the night before! She calls Yuudai's soup flavorless (fair) but dogs him for using the leftovers from the previous night's hot pot. A hot pot that she did not enjoy! According to Ami, no one has any business cooking a mizutaki hot pot for a group of strangers because it lacks flavor and nuance. Then she says she wouldn't have dared go against Taka because he's her elder! Her friends giggle and call him a "hot pot sergeant!" Ami agrees.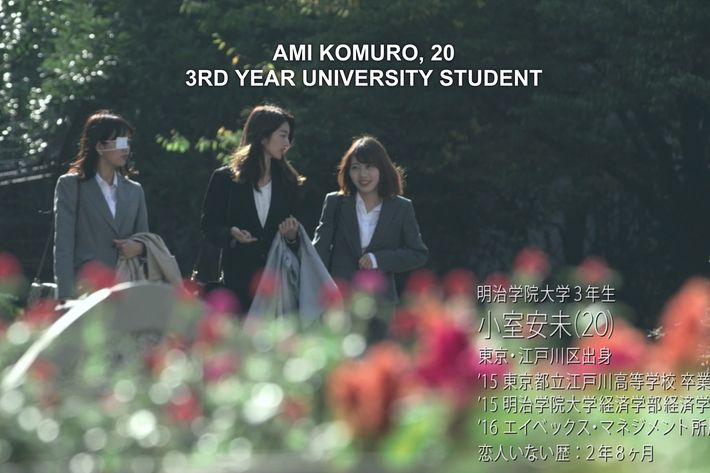 Joke's on Ami, though, because even though the celebrity panelists agree that the soup did look light on flavor, they believe Ami could have been a little kinder. Ryoto goes as far as to suggest that she'd just rather "gag herself on fried chicken." Okay, burn, I see you!!
Back at the house, many of the members, including the drool-worthy Shion and his drool-worthy senior citizen pal Taka, sit around the kitchen table chatting. Shion says that the housemates who don't have work or school the following day should go to lunch. All agree, and Yuudai asks to go to an Italian place in the area where he hopes to find work. Once that's settled, Tasty Taka brings up Yuudai's panda bears, Sanchan and Yuchan (who are actually from Ikea, if you're looking to bring some cuteness into your life, too). He and Shion tell the women about the bears' intended purpose — to bring him some comfort and cuteness at night — and Taka admits to seeing Yuudai cuddle them in bed. Of course, Regina "Ami" George rolls her eyes and calls Yuudai and his pandas "creepy." An accurate assessment, but everyone is shocked that she spoke in such an honest manner, and though they're laughing, I think her housemates are starting to see the real Ami poke through.
Next up in this Yuudai interrogation, the young man is asked about some of his goals. True, I don't think Yuudai has any skills, but it was very sad to hear him talk about wanting to make his parents proud with his culinary (lol) career. He's only 19, but he's already a cooking-school dropout because he figured he'd learn more from working in a kitchen rather than just learning how to cook in one. This upset his parents, who think he's never completed anything in his life. Terrace House, then, is a bootcamp of sorts for Yuudai. Strange, because it appears he had to quit his job to appear on the show? But I feel for him and wouldn't mind seeing him accomplish a whole lot of nothing while in the house. Yuudai's sob story touched Shion, who's now vowed to always ask Yuudai to prepare meals for him, all in the name of practice.
After their chat, Yuudai and Shion break off to chill in the TV room. The two guys aren't alone for long: Ami and Mizuki soon join because they're two souls who just can't unwind without a spot of TV before bed. But the group doesn't get to watching anything because Yuudai's so happy he's finally seeing Ami without makeup. As he told Mizuki earlier, he tells Ami that he was hoping she'd be ugly and he's disappointed to find out that she looks great with no makeup on. Ami's not thrilled, and while Yuudai word-vomits all over the room, she just stares, smiles, gives a quick "fuck you" peace sign, and whispers, "Thanks."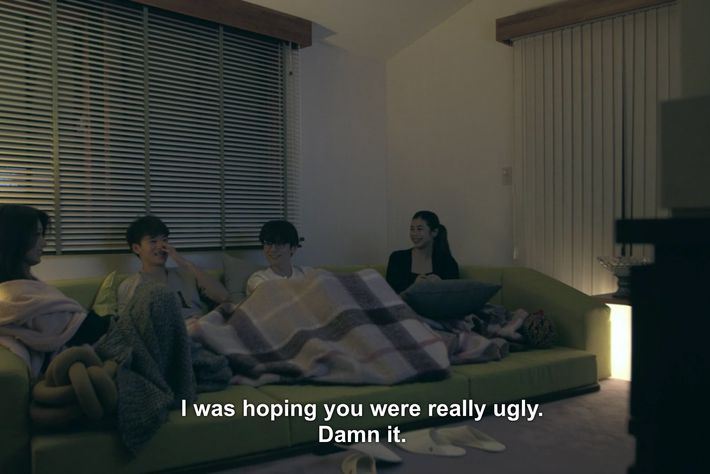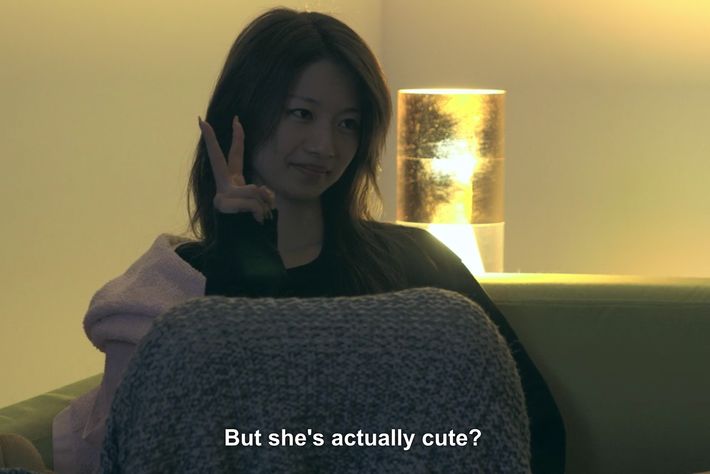 The following morning, Shion, who remained silent during Yuudai's takedown of Ami's makeup-free look, dons his morning Patagonia jacket as he makes some coffee while Mizuki works. Interested in learning more about every person he's living with, Yuudai asks Mizuki about what she's currently working on. What she's working on is a makeup peice where she reviews Korean beauty products and introduces the best ones to her Japanese audience. She seems passionate about cosmetics, but is even more excited to share with Shion that while in the house she'll be working on her lingerie brand. This is a relief, because it wouldn't be Terrace House without at least one person creating a new brand that culminates in a fashion show, exhibit, or opening that finally allows them to leave the house. It's the Terrace House Hero's Journey that we're just lucky to witness!
After their chat, Mizuki and Shion join Ami and Yuudai for lunch at the local Italian restaurant. The stark contrast between Yuudai and Shion is wildly apparent from the moment they're seated. Shion pulls out Mizuki's seat and makes sure she's seated before he takes his own, while on the other side of the table, Yuudai takes care of himself by grabbing an outside seat, forcing Ami to shimmy behind him for the seat closest to the wall. A very rich tactic for Yuudai who will proceed to spend the whole lunch "flirting" with Ami (he even asks her to feed him!).
Ami, who I'm shocked is even still in the house at 72 hours, spends the lunch trying to stop herself from rolling her eyes so far back in her head that she'll need to permanently borrow her friend's eye patch. It becomes exceedingly difficult when she tells Shion and Mizuki that Yuudai will be teaching her how to cook the following morning. And by "teach," Yuudai means he'll give Ami a recipe and watch her make a meal. This boy just needs to go ahead and GET!
After lunch, Shion and Yuudai break down the lunch for Taka. Shion asks Yuudai to correct him if he's wrong, but he says he sensed Yuudai trying to flirt with Ami. Yuudai says that's exactly what he was trying to do, and thinks that during their cooking session he'll ask her out on a proper date. Shion is a bit skeptical, because he thinks Yuudai came across as rude and "cold" throughout the meal, which he thinks is probably not that appealing. Yuudai, the emotionally inept panda parent that he is, just laughs.
Meanwhile, in the girls' room, the women are also breaking down the lunch. Ami says that Yuudai talks down to her and describes him as "prickly." His boyish behavior and sometimes-mean streak have the girls wondering if he's straight-up rude or just a bad communicator. But, like my celebrity icon You points out, this type of behavior is exactly what Ami said was attractive to her. Is Yuudai just being an exceptional listener and playing the part until he lands the role?
The next morning, Shion and his Patagonia slowly turn all of the kitchen lights on one by one and then he makes some coffee. He's up early, which means he's able to enjoy a coffee and a chat with the mysterious Tsubasa, who's headed to work. Shion is super interested in Tsubasa because he doesn't see so much of her. She knows that she's not as in the mix as the other house members because of her work and training schedule, so she's feeling a bit self-conscious about being left out.
But Shion insists that Tsubasa's fitting into the group just fine, and even asks if it'd be possible for him to go see one of her hockey games, or at least a video. Tsubasa is happy to show him videos of her playing hockey, and the two sweetly watch some of her work on her phone. So impressed with what he saw, Shion asks her on a date! Color me Karuizawa, because this is the first official date ask of the season, and it's a shocker because Shion is the Paris Fashion Week–aspiring model and Tsubasa is the most "natural" of the girls in the house. I'm sure you could have guessed as much, but this minor interaction of my two new favorite housemates has sent me into an emotional spiral that's left me awake for almost 67 hours! WE STAN. WE SHIP. WE RIDE HARD FOR AND WE ONLY RESPECT SHION AND TSUBASA IN THIS HOUSEHOLD! The hottest couple in Karuizawa agree to go on a date to a hot spring and foot bath in the near future. Praise be!!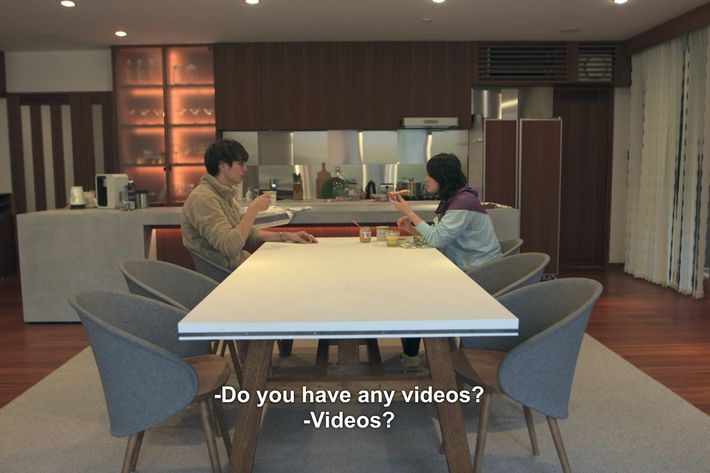 After Shion and Tsubasa ethered me with their love, Yuudai and Ami head to the kitchen. While watching and sometimes saying random cooking terms like "cutting consistently" and "evenly heating," Yuudai asks Ami for her upcoming availability. She tells him she's pretty much free all of the time, so Yuudai asks if she'd be interested in going out with him before he gets busy working at a job (to which he has yet to apply). She says she wouldn't mind going out with him, but since neither of them can drive their options are limited. Like a savage, Ami also asks where Yuudai will get the money for said date since he doesn't have a job. I mean, the Petty Peacock in Ami never sleeps, y'all. Yuudai, not understanding the shade, tells Ami to leave all of the planning to him and he'll figure something out.
To find out if that's possible, I'll see you all back here next week for another Nothing Can Terrace Apart recap of Terrace House. Which duo will be the first to go on a date? Will Yuudai ever learn to cook or be a chill person? Will Taka and Shion take off their clothes!? We'll figure out all that and MORE next week! Konbanwa!