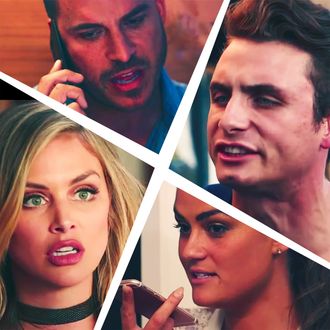 It's not about the pasta — or is it.
I have terrible news. The sixth season of the most delightfully horrifying form of entertainment mankind has known so far — Bravo's bartender reality show Vanderpump Rules — comes to an end tonight. It seems the dreaded Patrick is going to meet Lisa, and that she is not going to like him. I simply can't wait.
When will Bravo decide to air Vanderpump Rules every night, year-round? Soon, I hope. But until that moment, in the precious few hours we have left before tonight's finale, I invite you to come along and remember all of the best moments from the show's too-short sixth season.
It's all happening. And here we go:
43. When Stassi's terrible boyfriend Patrick pronounced clerical "cleerical" and then misused fastidious in an attempt to explain to her why she likes event planning.
42. When the gang was at "Sur Steakhouse" in Playa del Carmen and were going nuts about how it had sort of the same name as SUR (Sexy Unique Restaurant).
41. When Tom Sandoval brought a cocktail for Lisa to try to the empty, full-of-trash retail space where TomTom might someday exist and Lisa was like, "????." But then she was like, "ehh, okay."
40. When freaking James told Lisa about how Brittany played the tape of Jax admitting to cheating on her (Brittany) with Faith at their (Brittany and Jax's) housewarming party, a.k.a., "WHHYYYYYYYYYYYY!"
39. Every time Tom Schwartz said he was putting "sweat equity" into TomTom.
38. When James Kennedy's, um, friend Logan greeted Raquel after she came back from a summer (?) spent at … pageant (?).
37. When Rob, Scheana, Tom, and Ariana had a catered dinner at Rob's weird, empty house (where we are supposed to believe he lives) (yeah right), and Rob was like "You ever think, uhhh, dessert is better than sex?" or whatever, and Scheana was like, "Well, you're getting both tonight! AHahaha."
36. When Raquel confronted Lala about how James is always flirting with her when the gang was at Rob's house in Big Bear.
35. When Tom Schwartz got drunk and disappeared from the gang's hotel in Playa del Carmen one night, ended up at another hotel, and told Katie that the other hotel had to escort him home the next day, and she was like, "Tom…".
34. When Tom and Tom went out all night in Vegas before a meeting with Lisa related to TomTom, and then showed up drunk to the meeting, and Lisa was like "what the fuck," and they were like, "c'mon."
33. What does Tom Schwartz bring to the table in terms of TomTom? (Other than sweat equity.) I know this isn't a moment but it's certainly something I've been thinking about all season.
32. How Peter was desperately trying to dissociate when Brittany played everyone the tape of Jax admitting to cheating on her with Faith.
31. Lala's showcase and how, actually, it seemed pretty good.
30. Peter this entire season, really, speaking of Peter. He hasn't been doing much, but it's always nice to see him.
29. This tweet thread:
28. When Scheana told Rob that her divorce was almost finalized and he was like "[gulp]."
27. Everything with Billie, I like her.
26. When Jax was a pillow detective in Playa del Carmen.
25. When Tom and Tom told Lisa they want to have a "progress party" at the vacant TomTom, and she was like, "????"
24. Any time Tom Sandoval talked to Lisa and Kent about his ideas for TomTom.
23. When Kristen surprised Jax by bringing in Brittany's mom and sister, haha.
22. When Kristen, pulling an old-school Kristen, confronted James at dinner, alleging that James alleged that he hooked up with Kristen.
21. I guess Arianna's horses????
20. When Rihanna posted an Instagram about Vanderpump Rules.
19. The penis flutes.
18. When Sandoval came into the recording studio to play trumpet on Lala's song, oh my god.
17. When Kristen hobbled away on crutches, remember?
16. Every time Scheana talked about how Rob hung up a TV in seven minutes.
15. When Brittany asked Jax if he cheated on her more than once and his answer was, like, "uhhh, so what if I did???"
14. "Thanks for the boob job, asshole!"
13. When Lala's man sent her flowers in Playa del Carmen and Scheana was like, "Rob knows I hate flowers." And Lala was like, "does he give you presents?" And Scheana was like, "I actually don't like presents." Poor Scheana.
12. When Ariana told Tom Sandoval that he did not give her multiple orgasms and he could not believe it.
11. When Lala was like, "EEEE-NOOUUGGGHH!"
10. This conversation between Kristen and Scheana about Rob not saying "I love you":
9. Everything about Jax's Reiki master.
8. Of course, Lala's baby bottle.
7. When Stassi and Lala yelled at Jax for not knowing what Brittany wanted to do with her life, which is help kids with mental disabilities.
6. "YOUR! MAN! MADE OUT! WITH! MY FRIEND!"
5. When it WASN'T ABOUT THE PASTA!
4. When Jax almost DROWNED!
3. Every time Jax said his dream job was do to social media for a hockey team in Tampa, Florida.
2. When the scorned Brittany burst into her apartment from the balcony to play everyone at her housewarming party the tape of Jax admitting to sleeping with Faith — arguably the greatest moment in reality-TV history, perhaps second only to the No. 1 moment on this list.
1. Of course, the No. 1 moment of the sixth season of the incredible drama Vanderpump Rules — the moment we have all been waiting for — is, yes, of course: When a very drunk Sandoval correctly used "wherewithal" and then, seconds later, a very drunk Ariana correctly used "obtuse"!!!!!!!!!!!!!!!!!!!
Incredible. What a season it was. Thank you for remembering it with us, and please enjoy tonight's season finale of Vanderpump Rules on Bravo at 9 p.m. EST.