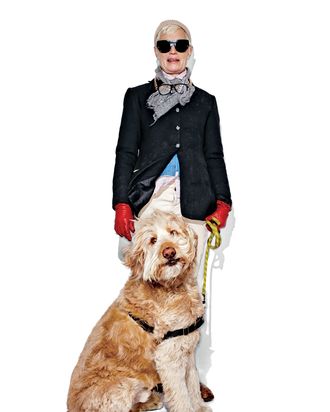 "We're regulars at Saturdays on Crosby Street."
Photo: Bobby Doherty/New York Magazine
Nora Breen, Artist
Who do we have here?
This is Ollie, a goldendoodle I take care of. Wesley Vultaggio, of the Arizona Iced Tea family, is his … I hate to say the word owner, but that's the way it is, I guess. Ollie is my best buddy. I used to see him in Soho back when he was a puppy, and he had a full-time nanny. She was young, and once, Oliver got away from her, ran out into the middle of the street, and I was able to get him. It was horrible. So one day when I saw Ollie out with Wes, I went up to him and said I am a huge dog lover, and he asked me if I wanted to take care of Ollie. I spend about three hours a day with him, and we just bop around Soho.
Where do you bop?
We have friends we go visit at different clothing stores and coffee shops. We're regulars at Saturdays on Crosby Street. We used to be friends with Neville, Marc Jacobs's dog, but we haven't seen him around lately.
How long have you lived in New York?
Thirty years. A lot of my friends actually have left New York. We all feel like the city is just not as cool as it used to be. A lot of them moved to Portland, Oregon, when that wave was happening in the early aughts. But you know what? They're miserable. They all hate it!
Lightning Round
Neighborhood: Lower East Side. "In the same rent-stabilized apartment for 21 years."
Type of artist: "Installation artist. I had a solo show a year ago inspired by quantum entanglement."
Favorite place to go out: "Every Sunday night, my friend Honey McMoney and I do karaoke at Karaoke St. Marks. My go-to song is 'That's Life,' by Frank Sinatra."
*This article appears in the April 2, 2018, issue of New York Magazine. Subscribe Now!